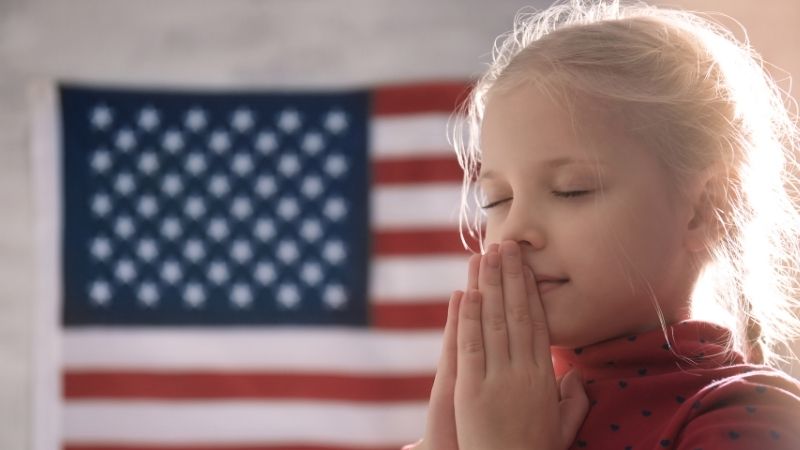 Millions of Americans will join together in prayer on Thursday, May 6, 2021, turning to the Almighty to ask for His blessings upon the nation. It's an annual celebration known as the National Day of Prayer — a special event that holds a deep and profound history.
READ ALSO: THE ONE BIBLE VERSE AMERICA DESPERATELY NEEDS RIGHT NOW
The National Day of Prayer, which unfolds on the first Thursday of May each year, dates back to 1952, when a joint Congressional resolution marked the day and President Harry S. Truman signed it into law.
But America's history of prayer — and, in particular, the government's participation in invocations — goes much deeper, extending back to 1774. That year, the Continental Congress "asked the colonies to pray for wisdom in forming a nation," according to the National Day of Prayer website.
From that point on, prayer has been a fixture in American social and political culture, having a role in the acts and conduct of government officials tasked with helping the nation progress throughout more than two centuries.
Pure Flix allows you and your family to explore these themes, among others, in shows like "The American Heritage Series."
With all of this in mind, it's worth diving a bit more into the history. The first prayer of the Continental Congress was offered on Sept. 7, 1774, by the Rev. Jacob Duché, Rector of Christ Church of Philadelphia, Pennsylvania.
He prayed for wisdom, guidance and protection for the congress on how to move forward with Britain. Here is his invocation:
"O Lord our Heavenly Father, high and mighty King of kings, and Lord of lords, who dost from thy throne behold all the dwellers on earth and reignest with power supreme and uncontrolled over all the Kingdoms, Empires and Governments; look down in mercy, we beseech Thee, on these our American States, who have fled to Thee from the rod of the oppressor and thrown themselves on Thy gracious protection, desiring to be henceforth dependent only on Thee. To Thee have they appealed for the righteousness of their cause; to Thee do they now look up for that countenance and support, which Thou alone canst give. Take them, therefore, Heavenly Father, under Thy nurturing care; give them wisdom in Council and valor in the field; defeat the malicious designs of our cruel adversaries; convince them of the unrighteousness of their Cause and if they persist in their sanguinary purposes, of own unerring justice, sounding in their hearts, constrain them to drop the weapons of war from their unnerved hands in the day of battle!
Be Thou present, O God of wisdom, and direct the councils of this honorable assembly; enable them to settle things on the best and surest foundation. That the scene of blood may be speedily closed; that order, harmony and peace may be effectually restored, and truth and justice, religion and piety, prevail and flourish amongst the people. Preserve the health of their bodies and vigor of their minds; shower down on them and the millions they here represent, such temporal blessings as Thou seest expedient for them in this world and crown them with everlasting glory in the world to come. All this we ask in the name and through the merits of Jesus Christ, Thy Son and our Savior. Amen."
Prayer was an important fixture in American society from that point on. Rather than something politicians simply do in the confines of their personal lives, invocations are, in fact, interwoven into the fabric of the American political system.
Consider that the U.S. Senate made it a point to ensure that finding a committee to select a chaplain was "one of its first orders of business" when it first assembled on April 6, 1789. By April 25, the Right Rev. Samuel Provoost, Episcopal Bishop of New York, had been chosen.
READ ALSO: INSPIRING DAILY PRAYERS TO HELP GUIDE YOUR FAITH
The chaplaincy continues to this day to be an important part of the Senate's daily activities (the House has also had a chaplain since 1789). Senate.gov has more:
In addition to opening the Senate each day in prayer, the current Senate chaplain's duties include spiritual care and counseling for senators, their families, and their staffs — a combined constituency of over 6,000 people — and discussion sessions, prayer meetings, and a weekly Senators' Prayer Breakfast.
Considering this history, it should come as no surprise that the National Day of Prayer remains an important event. Each year, a special Task Force, which approaches the event from a Judeo-Christian perspective, works to mobilize Americans into annual participation in the transformative event.
The theme of this year's National Day of Prayer is "Lord pour out your love, life, and liberty." Jesus makes it clear in the Bible that Christians are called to love God and love others, but in a divided era, love for others can sometimes turn cold or be lacking.
Find out how you can take part in the National Day of Prayer by looking into events and other observances here. You can also find out more about what America's founders believed about God and prayer by watching shows like "The American Heritage Series" — series you can stream with your free Pure Flix trial.