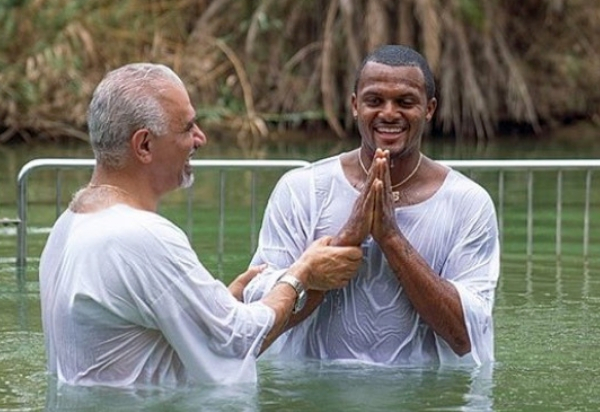 It's always inspiring to see celebrities turn their lives over to Jesus — a paradigm that sometimes seems all too rare when it comes to the world of fame and fortune.
Houston Texans quarterback Deshaun Watson revealed some exciting news this week: he was recently baptized in the Jordan River.
Watson took to Instagram to share photos of the inspiring event, noting that his trip to Israel was filled with many "life-changing experiences."
READ ALSO: What is Christian Baptism — and Why Does it Matter?
"Went to Jesus' hometown. Got Baptized in the Jordan River. Went tubing in the Sea of Galilee," Watson wrote. "Took a trip through Mary Magdalene's hometown. Saw the first church in [Capharnaum]."
See photos of the baptism:
Watson was in the Holy Land during a trip organized by America's Voices, a nonprofit that brings celebrities, faith leaders and politicians to Israel to see the sites, KTRK-TV reported.
The NFL star told the outlet in a statement that the trip was a chance for him to go "beyond the headlines" and to see Israeli history and culture firsthand.
READ ALSO: 38 Powerful Bible Verses For Overcoming Life's Struggles
"I have been blessed to visit many countries around the world, but the chance to visit the Holy Land, see the sites and meet the people of this special place, truly is a special blessing and an amazing opportunity," Watson said.
Want to learn more about Israel and the Holy Land? Consider checking out these great films streaming right now on PureFlix.com.