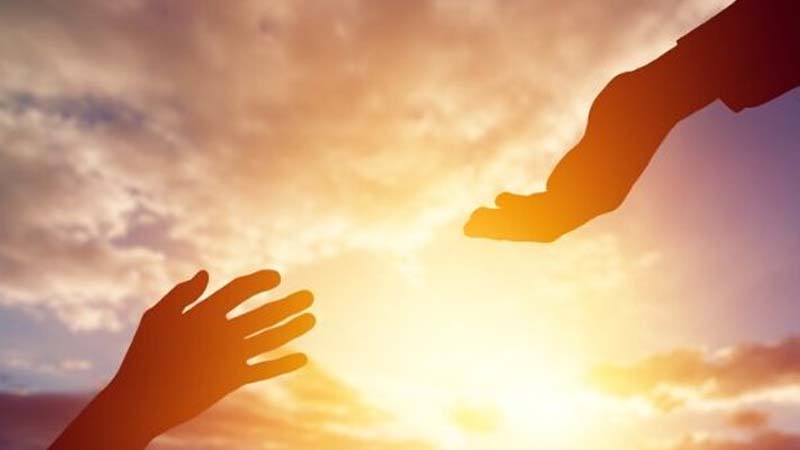 It's often amazing to watch some of the gruffest, toughest people give their lives to Jesus — people from whom one would never expect to see open vulnerability. Yet, truth suddenly softens them.
At Pure Flix, we often have the opportunity to tell stories about characters like this — imperfect, flawed people who go from living a life contrary to biblical truth to totally embracing Christ's message.
In fact, this is the theme of the new PureFlix.com series, "Sons of Thunder" a show that focuses on the incredible journey of a former biker and tough guy named Simon (Randal Reeder) who finds Jesus and travels the U.S. trying to help others.
As we see through Simon's story, and the real-life journeys of so many others, Jesus has a way of transforming human hearts. "Sons of Thunder" is, at moments gritty, (it's not a show for kids) but it is a transformational journey about the power of God's in our lives.
The Bible naturally provides many examples of rough people who find themselves transfixed and transformed by God. One such story surrounds a centurion whose faith left Jesus marveling (Matthew 8:5-13 NIV).
As you might know or recall, Jesus heals the centurion's servant. It's a story you'll find in both Matthew 8 and Luke 7 — and one that has left people chatting quite a bit over the ages.
What Is a Centurion?
Before we even dive into the narrative in Matthew 8:5-13 and the dialogue between Jesus and the centurion, let's explore the nature of a Roman centurion soldier.
According to the Ancient History Encyclopedia, a centurion soldier was the most famed officer in the Roman army — and with reason. This position involved keeping order in battle and helping ensure Rome maintained and grew its empire.
So, without a doubt, to be a centurion soldier meant being tough, devoted and strong on almost every imaginable level. The Ancient History Encyclopedia has more:
"Commanding a unit of around 100 legionaries, he was also responsible for assigning duties, dishing out punishments, and performing various administrative duties, which ranged from distributing camp passwords to the escort of prisoners. Centurions could also rise to higher administrative positions within the empire, but the name centurion would forever be associated with the grizzled veteran who, emblazoned with decorations, led by courageous example on the battlefield."
These details make the story recounted in Matthew 8:5-13 between Jesus and the centurion that much more amazing, and help contribute to the understanding surrounding why Jesus "marveled" over this centurion soldier and his faith.
Jesus and the Centurion
Matthew tells us in Matthew 8:5-13 that a centurion soldier came to Jesus and asked for help, revealing that his servant was at home, paralyzed and experiencing great suffering.
Jesus responded in Matthew 8:7 (NIV) by asking, "Shall I come and heal him?" And that's where the conversation took a fascinating turn, with the centurion expressing an amazing amount of faith.
Here's how he responded to Christ in Matthew 8:8-9 (NIV):
"Lord, I do not deserve to have you come under my roof. But just say the word, and my servant will be healed. For I myself am a man under authority, with soldiers under me. I tell this one, 'Go,' and he goes; and that one, 'Come,' and he comes. I say to my servant, 'Do this,' and he does it."
We learn that Jesus was "amazed" upon hearing these proclamations. He was so moved, in fact, that he said he hadn't seen anyone in Israel "with such great faith."
In the end, Jesus healed the centurion's servant, but there's a truly unique element to the story: The centurion soldier's request was granted without Jesus needing to go to his home; the servant was healed in that very moment.
The Key Take-Away
This story leaves us with some important take-aways. No matter what, Jesus can reach a person's heart. It's easy to judge and assume someone is too tough to embrace Christ.
But the Bible — and history — are filled with people like the centurion (and others who were once filled with total evil) turning their lives over to God and placing faith in Him. Their stories are typically anything but neat and clean, yet their journeys inspire us.
Just consider that Jesus found himself marveling at the faith of a man — a centurion soldier — who was very likely a machine on the battlefield. In many ways, this can give us hope in our own lives.
If you're looking to be inspired by a rugged story that shows the real-life complexities of a journey such as this, consider checking out "Sons of Thunder" on PureFlix.com.
Much like a centurion, Simon, the main character, once lived a rough and tumble life. But his faith in God rescued him. This is not the show for children, but it is a show that helps us all see the true sway of God's transformational power.