Prayer is one of the most important parts of the Christian experience, but some might struggle to understand the process, the implications and the benefits. To explore these issues, we must ask: What does the Bible say about prayer?
READ ALSO: A GUIDE ON INSPIRING DAILY PRAYERS & WHY PRAYER MATTERS
Scripture is a guide for us as humans and there are countless Bible verses on prayer that can help show us the purpose of this fulfilling portion of the faith.
What Does the Bible Tell Us About Prayer?
First and foremost, the Bible tells us to pray to God — and to pray continuously. Scripture proclaims that prayer shouldn't be robotic or disconnected, but that it should be deeply meaningful, that we should ask God for our needs and offer praises for what we have been given.
Bible verses on prayer cover a plethora of subject matter, but the main themes are as follows:
- Prayer keeps us connected to the Lord

- When we ask according to God's will, He hears us

- We should always be praying and never ceasing

- Gratitude should be part of our prayer life

- We should pray for others, including "enemies" and those who persecute us
Now, let's answer the question, "What does the Bible tell us about prayer?" by exploring some of the verses that offer insight, inspiration and guidance on how to approach the Lord.
READ ALSO: 20 BIBLE VERSES ABOUT STRENGTH: GOD'S WORD ON FAITH IN HARD TIMES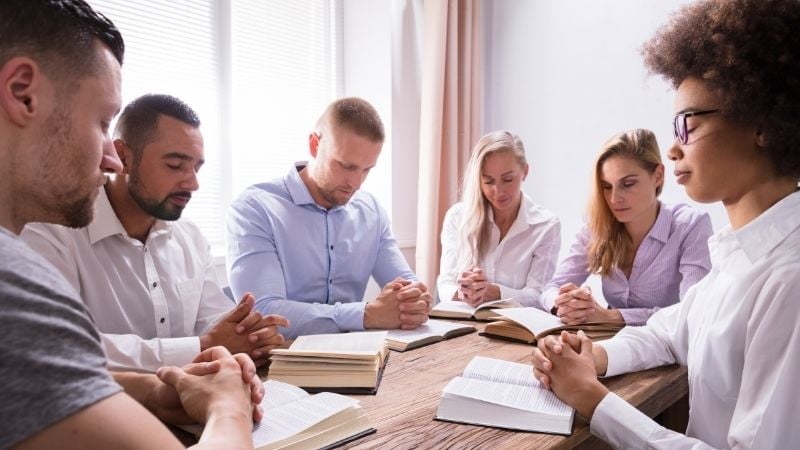 Bible Verses on Prayer
Here are some of the Bible verses on prayer that will help guide you in better understanding its role in the faith:
"This is the confidence we have in approaching God: that if we ask anything according to his will, he hears us." - 1 John 5:14 (NIV)
"Pray continually." - 1 Thessalonians 5:17 (NIV)
"In the same way, the Spirit helps us in our weakness. We do not know what we ought to pray for, but the Spirit himself intercedes for us through wordless groans." - Romans 8:26 (NIV)
"Devote yourselves to prayer, being watchful and thankful." - Colossians 4:2 (NIV)
"If any of you lacks wisdom, you should ask God, who gives generously to all without finding fault, and it will be given to you. But when you ask, you must believe and not doubt, because the one who doubts is like a wave of the sea, blown and tossed by the wind." - James 1:5-6 (NIV)
READ ALSO: 5 VERSES ABOUT PRAYING FOR OTHERS: WHAT THE BIBLE SAYS & HOW TO LIVE IT
"But I tell you, love your enemies and pray for those who persecute you." - Matthew 5:44 (NIV)
"Be joyful in hope, patient in affliction, faithful in prayer." - Romans 12:12 (NIV)
"Watch and pray so that you will not fall into temptation. The spirit is willing, but the flesh is weak." - Matthew 26:41 (NIV)
"Is anyone among you in trouble? Let them pray. Is anyone happy? Let them sing songs of praise." - James 5:13 (NIV)
"And pray in the Spirit on all occasions with all kinds of prayers and requests. With this in mind, be alert and always keep on praying for all the Lord's people." - Ephesians 6:18 (NIV)
"Therefore confess your sins to each other and pray for each other so that you may be healed. The prayer of a righteous person is powerful and effective." - James 5:16 (NIV)
"Do not be anxious about anything, but in every situation, by prayer and petition, with thanksgiving, present your requests to God. And the peace of God, which transcends all understanding, will guard your hearts and your minds in Christ Jesus." - Philippians 4:6-7 (NIV)
This wraps up our list covering Bible verses on prayer. If you want more inspiration, be sure to check out our prayer guide, which offers a plethora of prayer articles that will deeply inspire your faith journey.
Want more inspiration? Head over to Pure Flix right now! You can get a free trial to stream powerful faith and family-friendly movies, TV shows and original series today!