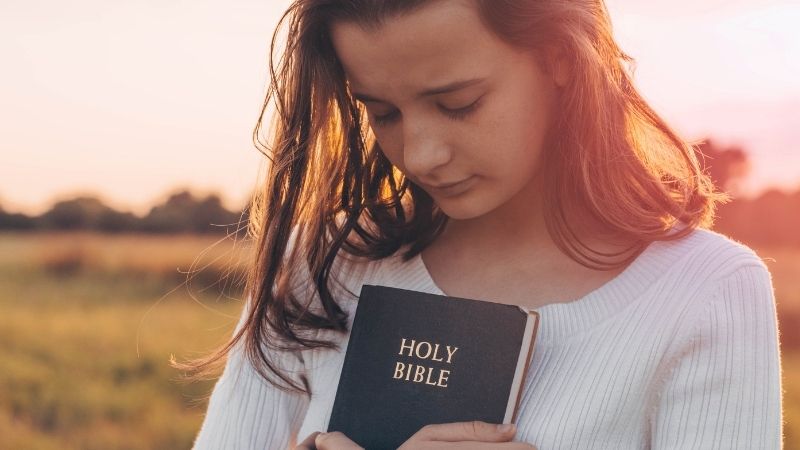 Scripture is filled with powerful Bible verses about hope that offer us a pledge and promise: God will be there for us no matter what we face. And that's certainly a reminder many of us need in the midst of cultural chaos and the pandemic.
READ: Check Out the Most Popular Bible Verses to Inspire You
The Bible is filled with hope, inspiration and absolute truth. So, let's explore hope in the Bible and what scriptures tell us for the times in which we struggle:
Hope in the Bible: Powerful Scriptures to Consider
For many, the key to hope is finding peace — and peace can be found in Jesus. This is a reality we encounter as we explore hope Bible verses throughout the Old and New Testaments. Here are just some scriptures about peace that are powerful and worthy of exploration:
"Peace I leave with you; my peace I give you. I do not give to you as the world gives. Do not let your hearts be troubled and do not be afraid." - John 14:27 (NIV)

"Who of you by worrying can add a single hour to your life? Since you cannot do this very little thing, why do you worry about the rest?" - Luke 12:25-26 (NIV)

"I have told you these things, so that in me you may have peace. In this world you will have trouble. But take heart! I have overcome the world." - John 16:33 (NIV)

"Because of the Lord's great love we are not consumed, for his compassions never fail. They are new every morning; great is your faithfulness." - Lamentations 3:22-23 (NIV)

"May the God of hope fill you with all joy and peace as you trust in him, so that you may overflow with hope by the power of the Holy Spirit." - Romans 15:13 (NIV)

"Anxiety weighs down the heart, but a kind word cheers it up." — Proverbs 12:25 (NIV)
LOOKING FOR HOPE? Stream Hopeful Dramas Right Now on Pure Flix

Hope Bible Verses: God's Plan For You
As we explore Bible verses about hope, it's essential to remember that God has a beautiful plan for our lives. He will guide us when we need it — and when we feel alone, we can rely on messages of hope in the Bible to sustain us. Here are just a few scriptures to explore:
"Then Jesus declared, 'I am the bread of life. Whoever comes to me will never go hungry, and whoever believes in me will never be thirsty.'" — John 6:35 (NIV)

"'For I know the plans I have for you,' declares the LORD, 'plans to prosper you and not to harm you, plans to give you hope and a future.'" - Jeremiah 29:11 (NIV)

"Do not be anxious about anything, but in every situation, by prayer and petition, with thanksgiving, present your requests to God." - Philippians 4:6 (NIV)

"The Lord replied, 'My Presence will go with you, and I will give you rest.'" — Exodus 33:14 (NIV)
READ ALSO: 50 Bible Scriptures About Faith, Hope and Encouragement
Listening and searching for God's guidance is a main theme in the hopeful drama "Sweet Inspirations." Four middle-aged ladies discover purpose when they launch a unique fundraising effort to save a local women's shelter from imminent foreclosure, testing the limits of their friendship and themselves. This movie, which stars Dean Cain, will leave you inspired.
Watch the trailer for "Sweet Inspirations" on Pure Flix (get a free trial if you don't have one)!
Strength and Hope in the Bible
For many of us, losing hope leaves us feeling weak. Yet we know we can gain strength and hope in the Bible. So, let's explore just some of the Bible verses that offer hope and strength — and a reminder that we can find solace in God:
"Who is it that overcomes the world? Only the one who believes that Jesus is the Son of God." — 1 John 5:5 (NIV)

"But you, Lord, do not be far from me. You are my strength; come quickly to help me." - Psalm 22:19 (NIV)

"So do not fear, for I am with you; do not be dismayed, for I am your God. I will strengthen you and help you; I will uphold you with my righteous right hand." — Isaiah 41:10 (NIV)

"Do not be overcome by evil, but overcome evil with good." - Romans 12:21 (NIV)

"He gives strength to the weary and increases the power of the weak." - Isaiah 40:29 (NIV)
READ ALSO: Here Are 10 Christian Movies That Will Renew Your Faith
That wraps our collection of hope Bible verses. This is hardly a comprehensive list of all the hope in the Bible that you can find, but it gives you a lens into the powerful and timeless nature of scripture. Want more hope? Grab our free, 5-day Bible verse devotional.