One of the most important steps to building and sustaining a relationship with God is learning how to read the Bible. And with modern technology, it's easier than ever to engage the scriptures. You can read the Bible online, on your mobile device or on paper — the options are limitless. We've gathered some tips on how you can get the most out of your Bible study experience or how to read the Bible for beginners.
How To Read The Bible
Don't be Intimidated — Pray as You Read the Bible
First and foremost: If you're looking to learn how to read the Bible, keep one thing in mind: there's no reason to be intimidated. Yes, the scriptures are thousands of years old and are deeply important, but they were written as a timeless and relatable guide for humanity.
READ ALSO: SHARING THE GOSPEL WITH KIDS: 5 TIPS TO SPARK A LIFELONG FAITH
One of the best steps you can take before you read the Bible is to pray and ask God for guidance. Consider saying a prayer like this: "Dear Lord, as I study Your word please help me and guide me; please show me the lessons you want me to learn and help me to understand all that I am reading."
It's as simple as that. Don't be intimidated, and remember that there are resources available to help you on your journey toward understanding. Starting a Bible study with prayer is a good reminder for beginners and lifelong Christians.
Make a Bible Plan and Stick to It
Reading the Bible can seem like an overwhelming task. With 66 books and much to discover, it can seem difficult to know where to start. But there are many guides and options available.
First, commit to reading the Bible each day. Mornings might be best to help get you thinking throughout the day about the themes you read, but evenings are another wonderful option if your morning routine is full.
DOWNLOAD TODAY: FREE PURE FLIX 5-DAY BIBLE VERSE DEVOTIONAL
Either way, make the commitment to read the Bible each and every day. From there, you can sign up for a read the Bible in a year plan or some other guide that will assist you in knowing what portions of the scriptures to read — and when.
Consider Solid Bible Studies You Can Read
Websites like YouVersion are making it easier than ever to read the Bible online. With a ton of versions of the scriptures and a growing list of Bible studies to consume, this Bible app is worth downloading to your smartphone.
You can find hundreds of reading guides here. Consider searching by topic, Bible book or other related themes. One example is my own Bible study titled, "Discovering Wisdom," a 10-day exploration of the first portion of Proverbs.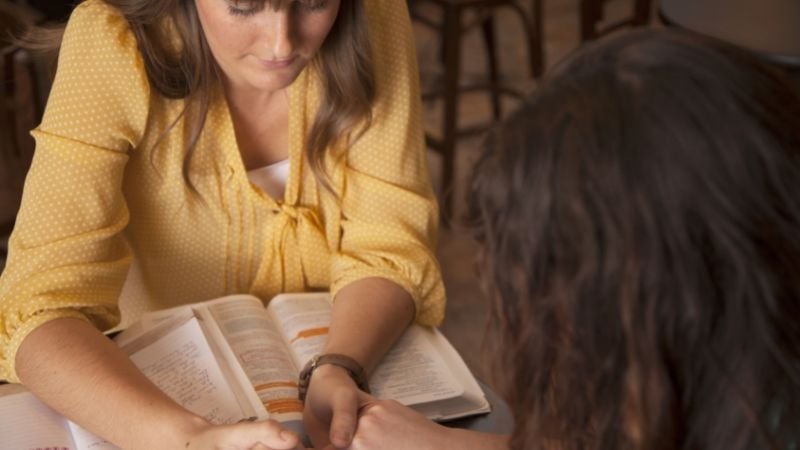 How To Read The Bible For Beginners
Work Through Books in the Bible
Another option for those exploring how to read the Bible is to simply start by working through individual books in the Bible. Some people might choose to start from Genesis and work through Revelation, though others might want to start with a book like John, or read the Bible by starting with the New Testament.
There are many ways to read the Bible. Either way, remember: there are helpful resources to guide you in your understanding.
READ ALSO: 25 SHORT BIBLE VERSES FOR WHEN YOU ARE ON THE GO
Consult Commentaries
Luckily, there are additional resources available for those looking to maximize their Bible-reading experience. As you read the Bible online, you'll surely stumble upon a plethora of commentary. While it's important to approach commentary with caution to be sure its writers truly grasp scripture, websites like Bible Gateway offer up many trustworthy resources.
Among the commentaries is the Matthew Henry collection. It's free and it is likely a great starting point if you're looking for tips on how to read the Bible and what various scriptures and chapters mean. Henry provides context, themes and plenty more.
Consider Journaling as You Read the Bible
If you're looking for how to read the Bible, one of the most insightful steps you can take is to journal as you read. This not only helps you process the Bible's contents, but it allows you to write questions, take notes and keep an informative record.
Journaling can also be a form of prayer. Consider grabbing a journal and using it alongside your daily Bible reading.
Read the Bible Online or In Person With Friends
Last but not least, remember: Community is an important part of building one's faith. Don't hesitate to join a Bible study at your church or online. Studying the Bible regularly with other people is an excellent way to process scripture, while sharing your perspective and asking questions of others.
We hope these seven tips help you to grow as you seek better ways to read the Bible. Faith is an incredible journey, and scripture is key to helping shape your heart and life.
Don't forget to get your copy of the FREE Pure Flix 5-Day Bible Verse Devotional to get you started on your Bible study journey.