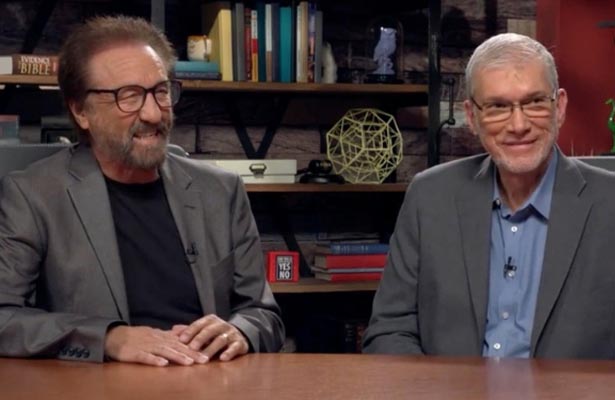 Apologists Ken Ham and Ray Comfort are on a mission to inspire Christians to share their faith more boldly. They are joining forces for an upcoming conference that seeks to answer atheists' biggest critiques of the Christian faith.
Ham and Comfort will speak during the PureFlix.com sponsored Answering Atheist conference (April 17-21) this Easter at the Ark Encounter attraction in Williamstown, Kentucky. It's a gathering that promises "four days of solid biblical teaching to equip you to stand confidently on God's word."
READ ALSO: Want to Know How to Answer Atheists? Check This Out
"We're trying to, in a sense, overcome a failure of much of the church because the church, by and large, has not been impacting the culture," Ham said during a recent episode of PureFlix.com's 'Pure Talk.'" "The culture has been impacting the church ... we're seeing an incredible mess in our world."
Watch Comfort and Ham reveal how they plan to help equip Christians:
Comfort added that it's essential for Christians to preach the gospel, especially if believers profess to care about people who do not yet know the gospel.
"When things get darker, the gospel shines brighter," he said. "Much of the church hasn't stepped up to the plate."
The Answering Atheists conference comes at the same time that American Atheists — an atheist activist group — is hosting its own national conference in the nearby Cincinnati area. Ham is hoping the event reaches Christians and atheists alike.
READ ALSO: Inside the Incredible Story Behind Lifesize Replica of Noah's Ark
"Much of the church has never … taught generations how to defend the Christian faith, how to give answers to skeptical questions and how to go out and effectively witness to people," Ham said, explaining that some are too afraid to be bold.
Comfort is hopeful that the event will help spark interest in evangelism by equipping people with the information needed to interact with Bible critics.
"We're in a battle," Ham said. "We should be in that battle 24 hours a day."
Want to see Ham and Comfort share their views on faith and atheism? You and your family are invited to attend the Answering Atheists conference this April. You can learn more here.