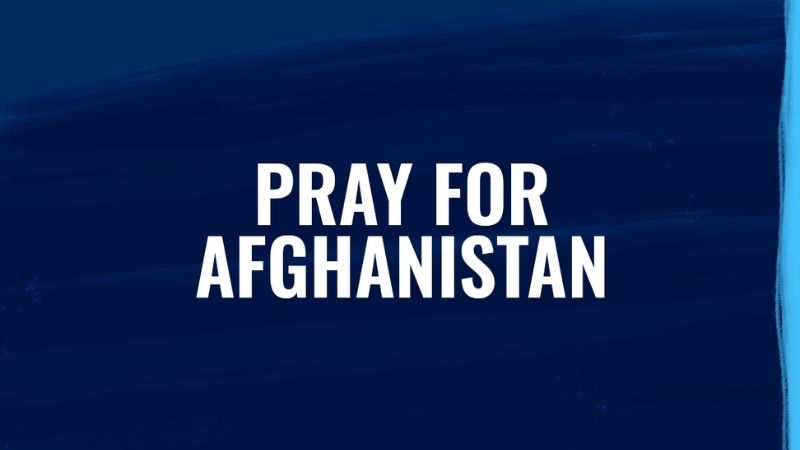 With so much uncertainty and chaos unfolding in Afghanistan, it's easy to feel like there's nothing we can do to help from this side of the world.
That couldn't be further from the truth, as there is one impactful and powerful way you can help right now: Prayer.
Here are fives ways you can pray for Afghanistan.
1. Pray For All Afghans
Every Afghan is living through a tumultuous time and has been caught in the crossfire of conflict for generations.
The Associated Press estimates that more than 47,000 Afghan civilians were killed in the last 20 years and another 66,000 Afghan national military and police lost their lives. The affect of this loss cannot be imagined.
READ ALSO: 7 BIBLE VERSES TO HELP YOU FIGHT FEAR AMID CHAOS
With so many impacted by tragedy, here's a prayer for peace and healing:
Lord, we lift up the people of Afghanistan and ask for the peace and healing only You can bring. They have endured endless conflict and tragedy and many do not know Your hope and promises. We ask that, through this chaos, You provide a light in the darkness to those who do not know You. In Jesus name, Amen.
2. Pray For Afghan Christians
Afghanistan was listed as the second hardest place in the world to live as a Christian, according to persecution watchdog Open Doors USA. And that was before the Taliban regained power this week.
"Now that the Taliban is in power, the vulnerability of secret believers increases tenfold," an unnamed director for Open Doors Field Director for Asia said. "We are monitoring the situation, but this is the time for us to ask God to have mercy not only on His people, but on this country as a whole."
As Christians are driven from their homes or into hiding, here's a prayer for protection and strength:
Lord, we pray for all Afghan Christians – the ones who have fled their homes to seek refugee and those who remain behind in Afghanistan. We ask for Your supernatural protection and ask that You place a shield around them. We pray that You blind those who look to harm them and for the victims' faith to be strengthened like iron as they endure unthinkable persecution. In Jesus name, Amen.
READ ALSO: CHRISTIANS ARE BEING CAPTURED, KILLED ACROSS GLOBE: INSIDE THE CRISIS
3. Pray for Military & Their Families
Countless American men and women have deployed to Afghanistan. They have sacrificed and so have their families. As the situation deteriorates, they may be confused and angry and wonder what their sacrifices were for.
In total, 2,352 Americans were killed in Afghanistan and another 20,149 were injured according to the Department of Defense Casualty Status. In addition, there were an estimated 3,846 U.S. contractors killed while working in the country, according to the Associated Press.
At the height of the Afghan war, there were 50 partner countries and a force of 130,000 personnel with the NATO International Security Assistance Force mission in Afghanistan. According to an Associated Press count, there were 1,144 service members killed from the NATO member states.
For these individuals and families, the confusion hits close to home. Here is a prayer for safety and to repel doubt:
Lord, first we ask for protection of the service members who were rapidly deployed to Afghanistan; watch over them, Lord, and bring them home safely to their families. Second, our service members and families are hurting as they see 20 years of blood, sweat and tears slip away in Afghanistan. We know You have a plan for all of this and we ask You to remove doubt and anger from our minds so we can focus on healing. In Jesus name, Amen.
4. Pray For Our Leaders
Chaos is not only unfolding in the streets of Kabul, but in the meeting rooms of our leaders. They are grappling with a crisis amidst a global pandemic.
We should stop and pray for wisdom and grace for all the leaders making tough decisions today:
Lord, we ask that You bestow wisdom on our leaders and influence their words and actions during this time of chaos. We pray they would seek You as they make tough decisions. In Jesus name, Amen.
5. Pray For The Taliban
Yes – we are asking you to pray for the members of the Taliban. We are called to love our enemies and that means praying for them even while they persecute us.
Lord, we pray for complete transformation and heart change for every member of the Taliban. We lift up their hearts to You and beseech You to enter their spirit and have them turn away from their sin and destruction. You are a gracious, forgiving and compassionate God and it is never too late to change and find solace in your love and grace. In Jesus name, Amen.
Here are more resources on how to pray to Afghanistan.