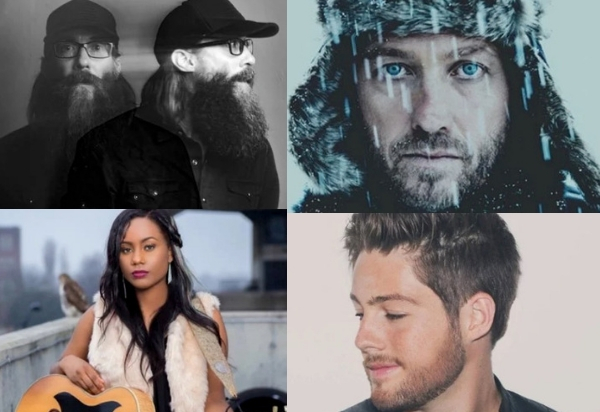 Christian singers are known for their vocal power and for helping believers connect to God through music. But some of the most popular Christian singers are also speakers, authors and encouragers — individuals who often speak important gospel truths. Pure Flix Insider has interviewed some of these stars, and we've assembled some of their most powerful proclamations.
Check out Christian and life commentary from TobyMac, Jamie Grace, Matthew West, Austin French and Crowder:
LOOKING FOR HOPE? Watch Uplifting Movies and TV Shows Right Now on PureFlix.com
Christian Singer Crowder Encourages Grace and a 'Christ-Like Posture'
Crowder is a Christian singer who is known for offering up some powerful words. Last year, he spoke out about ways in which Christians should behave. He proclaimed that "it's grace that keeps the hands wide open," and offered up some advice about what he believes would yield some positivity in the world:
"I think in a lot of … conversations, a Christ-like posture internally and externally in our posturing would be super met with smiles. It's so needed right now."
Listen to what Crowder had to say about music, faith and more below:
TobyMac Encourages Christians to Live for God
Pop musician TobyMac is one of the most popular Christian singers who believes it's essential for Christians to wake up every day to make the intentional choice to live for God. This is a daily process of aspiring to live by the Lord's standards, and to allow them to guide our lives — in every area. He said:
"To me, it means waking up every morning and setting your mind on being the person you want to be, the friend you want to be, the spouse you want to me."
Listen to our full interview with TobyMac here:
READ ALSO: Singer Jamie Grace's Absolutely Incredible Overcomer Story
Matthew West Says Authenticity Is Key
Singer Matthew West has a bold, yet simple, message for us to consider: Authenticity is key. He believes we can best be defined by living the way we're intended to live. West is a Christian singer who also regularly writes books and speaks out about his faith.
"I think we're all drawn to authenticity," West told Faithwire. "I want to reach the most authentic version of me before my life's over."
Austin French Overcame Pain and Found Christ
Singer Austin French has boldly shared his faith journey, recalling the pain he went through in his life, and how he at one point pledged he'd never become a Christian. But then a sermon he heard at a music camp changed everything.
"A guy got up on stage and said, 'Hey, I want to talk about hypocrisy. I'm gonna tell you there's a lot of people who follow Jesus with their lips and they talk a really great game, but they've never followed Jesus with their life,'" French told Pure Flix. "'That is not what being a Christian is — being a Christian is giving your entire life to Jesus. It's looking like Jesus because you're spending time with Jesus.'"
After the speaker shared the gospel, French — who later became a Christian singer — accepted Christ, explaining: "That's the day I gave my life to Jesus and realized that I was saved by his scars. I wasn't defined by mine."
Listen to French's powerful testimony:
READ ALSO: TobyMac on God, Life, Music and the Power of Community
Jamie Grace Reminds Us God Will Sustain Us
Christian singer Jamie Grace has faced some intense struggles. And through the chaos, she has found an important truth about God and His power to sustain us.
"It's about realizing that, even when you're in the midst of the tunnel, God is reaching in there and He's saying, 'I'm not about to make it perfect. I didn't say I was about to make it easy,'" she told PureFlix.com's "Pure Talk" last year. "Jesus was saying ... 'I'm going to reach in, in the middle of that despair; I'm going to be there with you through it.'"
Watch her reveal the details and encourage us all:
That concludes our list of Christian singers' important gospel truths. Listen and watch the full interviews for more, and be sure to head on over to PureFlix.com to watch "Hillsong: Let Hope Rise," a documentary that offers "a deep look at not only the worship music but how … [Hillsong] lives out the Biblical call of service to others." Watch the trailer here.