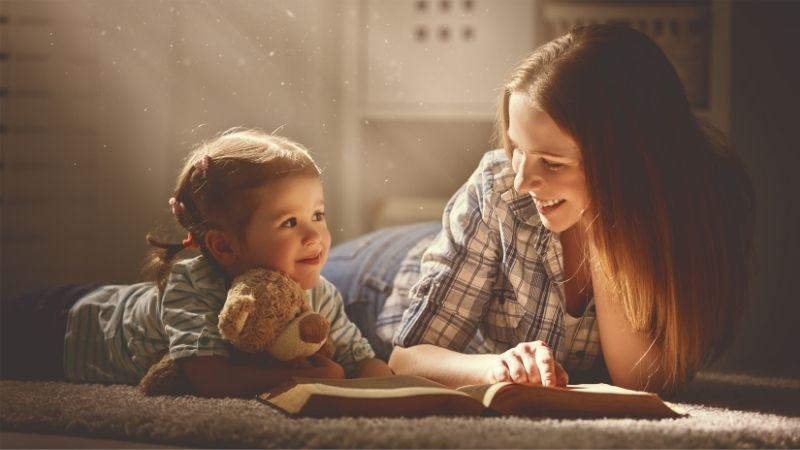 With Mother's Day fast approaching, pausing to reflect on what God's Word says about moms is a great exercise. Whether you just want to find a little encouragement for your mom or you need something to put in this year's card, this list of Mother's Day Bible verses is the perfect overview of what scripture says about the women we all know and love.
READ ALSO: What The Bible Teaches About a Mother's Love
Mother's Day Bible Verses to Encourage & Inspire
The fifth commandment, found in Exodus 20, is "Honor your father and your mother." This command is repeated throughout the Bible, with scriptures emphasizing its importance:
"Children, obey your parents in the Lord, for this is right. 'Honor your father and mother'—which is the first commandment with a promise — 'so that it may go well with you and that you may enjoy long life on the earth.'" -Ephesians 6:1-3
In this verse, from the NIV Bible, we are told exactly why honoring your father and mother is important — it will help you have a long and fulfilling life.
Every one of you shall revere his mother and his father, and you shall keep my Sabbaths: I am the LORD your God. – Leviticus 19:3
God also proclaims that honoring your parents is key to obedience — just like keeping the Sabbath day holy. Keeping these commandments together highlights their importance.
For God said, 'Honor your father and mother' and 'Anyone who curses their father or mother is to be put to death.' But you say that if anyone declares that what might have been used to help their father or mother is 'devoted to God,' they are not to 'honor their father or mother' with it. Thus you nullify the word of God for the sake of your tradition. – Matthew 15:4-6
In this passage, Jesus criticizes how easily the Pharisees have dismissed their duty to their parents by merely claiming that their resources were God's. He emphasizes that tradition is no excuse to ignore the commandment to honor your mother.
A Mother's Teaching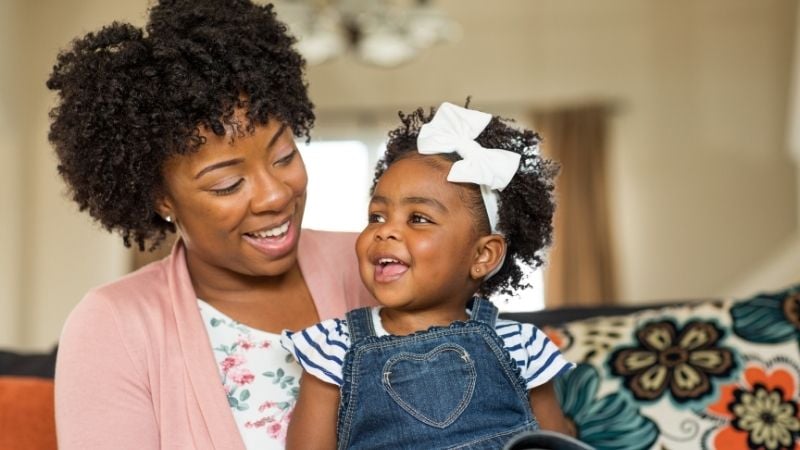 Scripture places a lot of weight on a mother's influence. Many Bible verses about mothers focus on listening to your parents' instructions. This means that moms should focus on teaching their children — and likewise, children should take note of their mother's wisdom.
"Start children off on the way they should go, and even when they are old they will not turn from it." – Proverbs 22:6
Your childhood lessons tend to stick with you throughout your life. This Mother's Day, tell your mom what childhood lessons still affect you today.
"Listen, my son, to your father's instruction and do not forsake your mother's teaching. They are a garland to grace your head and a chain to adorn your neck." - Proverbs 1:8-9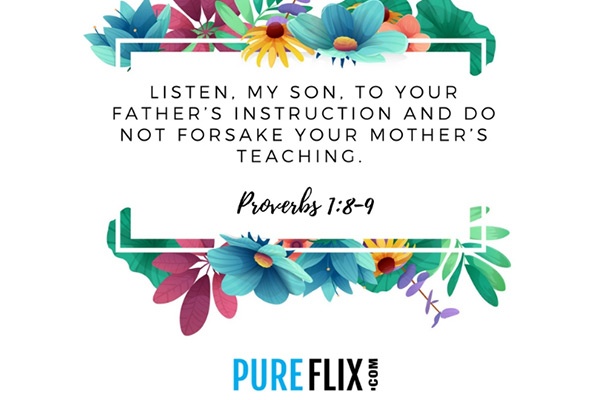 King Solomon compares a mother's teaching to a beautiful piece of jewelry — noticeable and beautiful.
"Older women likewise are to be reverent in behavior, not slanderers or slaves to much wine. They are to teach what is good, and so train the young women to love their husbands and children, to be self-controlled, pure, working at home, kind, and submissive to their own husbands, that the word of God may not be reviled." – Titus 2:3-5
This passage reminds us that a mother's lessons impact not only her own children, but others around her as well. Is there a woman you know who isn't your mother, but still impacted you? Reach out to her with this encouragement this Mother's Day.
READ ALSO: 5 Mother's Day Gifts That Last All Year
A Mother's Love
The Bible recognizes a mother's love as one of the most powerful kinds of love.
"Can a mother forget her nursing child? Can she feel no love for the child she has borne?" – Isaiah 49:15
Isaiah suggests that a mother's love for her child is so well-known that it becomes a rhetorical question in the aforementioned verse.
Love is patient and kind. Love is not jealous or boastful or proud or rude. It does not demand its own way. It is not irritable, and it keeps no record of being wronged. It does not rejoice about injustice but rejoices whenever the truth wins out. Love never gives up, never loses faith, is always hopeful, and endures through every circumstance. – 1 Corinthians 13:4-7
This popular passage about love is is often used in wedding ceremonies, but it is worth considering for moms, too, as the truth it espouses is not merely contained to the romantic.
God's Love is Like Mom's
A mom's love is so powerful that God uses it as a metaphor for His love for us.
"As one whom his mother comforts, so I will comfort you." – Isaiah 66:13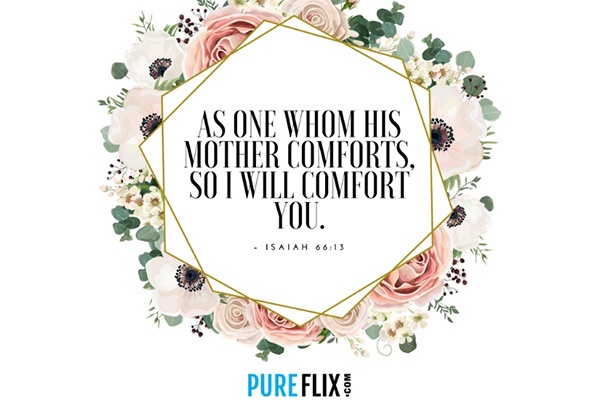 READ ALSO: 5 Amazing Mother's of the Bible Who Teach Truly Timeless Lessons
God says he will comfort Israel the same way a mother comforts their child.
"Children are God's love-gift; they are heaven's generous reward." – Psalm 127:3
"Behold, children are a heritage from the Lord, the fruit of the womb a reward." - Psalm 127:3
Children are repeatedly called a blessing or reward - a mirror of God's love for us and a way that we learn to deeply love another human being.
Serving God as a Mother
"But if serving the Lord seems undesirable to you, then choose for yourselves this day whom you will serve, whether the gods your ancestors served beyond the Euphrates, or the gods of the Amorites, in whose land you are living. But as for me and my household, we will serve the Lord." – Joshua 24:15
This powerful declaration of a family choosing to serve the Lord is a great one for moms.
Mothers in the Bible
There are many mothers in the Bible that are worth admiring and learning from, but these two passages highlight how God sees moms.
"Near the cross of Jesus stood his mother, his mother's sister, Mary the wife of Clopas, and Mary Magdalene. When Jesus saw his mother there, and the disciple whom he loved standing nearby, he said to her, 'Woman, here is your son,' and to the disciple, 'Here is your mother.' From that time on, this disciple took her into his home." - John 19:25-27
READ ALSO: Female Bible Heroes: The Strongest Women in the Bible
In this passage, Jesus asks one of His disciples to care for His mother after He is crucified. Jesus' example of making sure His mother was cared for is a great one for all children.
"Don't ask me to leave you and turn back. Wherever you go, I will go; wherever you live, I will live. Your people will be my people, and your God will be my God. Wherever you die, I will die, and there I will be buried. May the Lord punish me severely if I allow anything but death to separate us!" – Ruth 1:16-17
Ruth's love for her mother-in-law is a great example of caring for family members - including our in-laws.
"She speaks with wisdom, and faithful instruction is on her tongue. She watches over the affairs of her household and does not eat the bread of idleness. Her children arise and call her blessed; her husband also, and he praises her: 'Many women do noble things, but you surpass them all.' Charm is deceptive, and beauty is fleeting; but a woman who fears the LORD is to be praised." - Proverbs 31: 25-30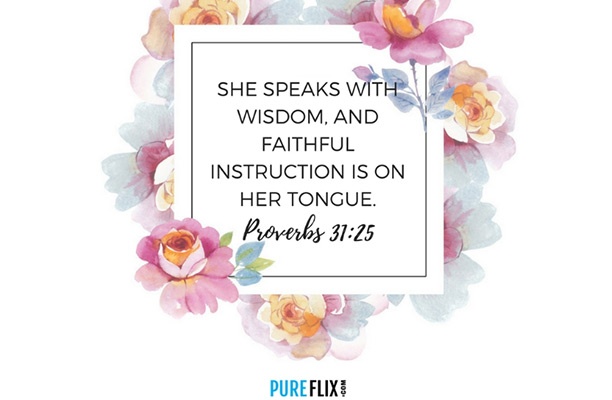 The "Proverbs 31 woman" is considered the ideal example for all women. Tell your mom about the noble things she has accomplished, and be quick to praise her for the impact she's had on your life. Explore more popular bible verses for inspiration and empowerment.
And if you're looking for movies to stream with your mother this Mother's Day, consider "Full Of Grace," "The Book of Ruth," the series "Daughters of Eve" — and, for the kids, "VeggieTales: Esther...The Girl Who Became Queen." All these and thousands of other faith and family-friendly entertainment options are available right now with a free trial to Pure Flix.