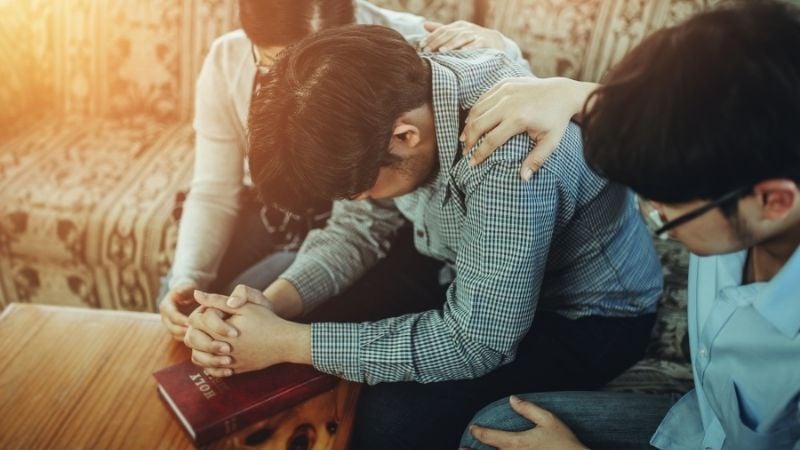 Suffering in this life is inevitable, but Christians have a special advantage. Inspired by the life of Jesus Christ, we can use our suffering as a tool to help ourselves and others grow closer to God. Now streaming on Pure Flix, the Christian movie "New Life" elegantly demonstrates the beauty in suffering and how to remain faithful to God in the hardest times.
Starring Erin Bethea ("Fireproof," "Sunrise in Heaven") and Jonathan Patrick Moore ("Christian Mingle"), "New Life" follows the romance of Ben and Ava. The couple is forced to adjust their expectations for their once-perfect life after one of them becomes seriously ill. Their love for one another and their constant hope in hardship call to mind five Bible verses about not giving up, even when times are hardest.
DOWNLOAD NOW: PURE FLIX'S INSPIRATIONAL MOVIE GUIDE
Bible Verses About not Giving Up
The Lord is Patient With Us
"But do not forget this one thing, dear friends: With the Lord a day is like a thousand years, and a thousand years are like a day. The Lord is not slow in keeping his promise, as some understand slowness. Instead He is patient with you, not wanting anyone to perish, but everyone to come to repentance." – 2 Peter 3:8-9 (NIV)
The hardships created by the illness force Ava and Ben to rely on the virtue of patience, trusting that while God's timing may not be our timing, it is always perfect.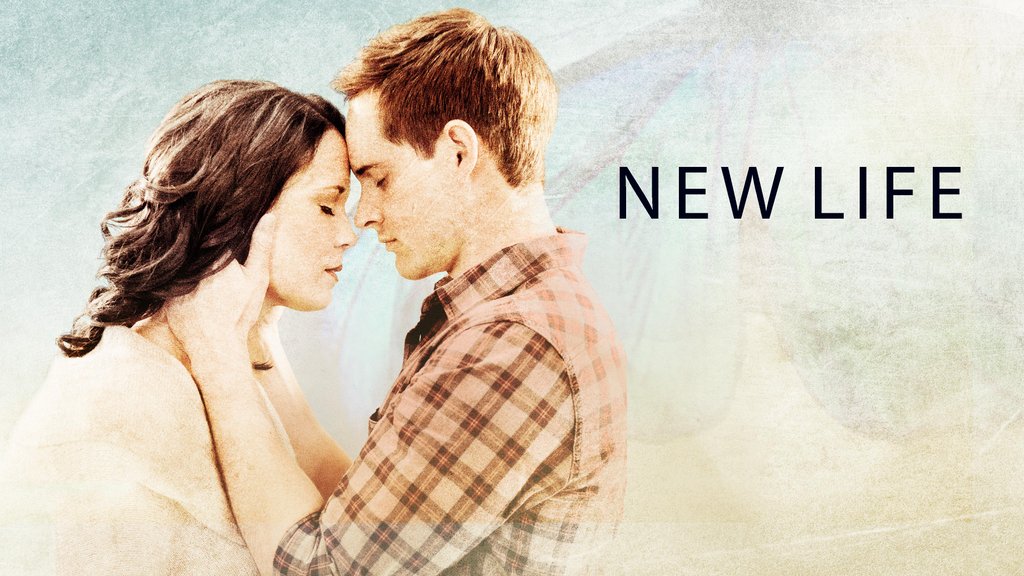 The Lord Holds Us in His Hands
"Though he may stumble, he will not fall, for the LORD upholds him with His hand." – Psalm 37:24 (NIV)
While Ava and Ben struggle with being patient, there are times of suffering that cause them both to break down. Ben battles with moments of denial, yet he always musters up the strength to be a rock for Ava when she needs him.
There's a Harvest for Those Who Don't Give Up
"Let us not become weary in doing good, for at the proper time we will reap a harvest if we do not give up." – Galatians 6:9 (NIV)
Ava and Ben want to have a child, but they are not able to have one of their own. Nevertheless, their needs are fulfilled, demonstrating that God can reap something good out of even the most dire situations.
God Gives Us Strength
"He gives strength to the weary and increases the power of the weak. Even youths grow tired and weary, and young men stumble and fall; but those who hope in the Lord will renew their strength. They will soar on wings like eagles; they will run and not grow weary, they will walk and not be faint." – Isaiah 40:29-31 (NIV)
"New Life" demonstrates some incredible moments of joy, even in the midst of suffering. Ava and Ben keep their faith, and acknowledge how rich they are in love for one another.
READ ALSO: 20 BIBLE VERSES ABOUT STRENGTH: GOD'S WORD ON FAITH IN HARD TIMES
God Is With You
"So do not fear, for I am with you; do not be dismayed, for I am your God. I will strengthen you and help you; I will uphold you with my righteous right hand." – Isaiah 41:10 (NIV)
This verse reminds us that ultimately God's plans for us are good, no matter what emotions they make us feel in the moment. Just as Ava and Ben never lost hope throughout their hardships, God calls us to continue to have hope in His perfect plans for us.
10 More Bible Verses About Not Giving Up in Hard Times
His Grace Is Sufficient
"But he said to me, 'My grace is sufficient for you, for my power is made perfect in weakness.' Therefore I will boast all the more gladly about my weaknesses, so that Christ's power may rest on me. That is why, for Christ's sake, I delight in weaknesses, in insults, in hardships, in persecutions, in difficulties. For when I am weak, then I am strong." – 2 Corinthians 12:9-10 (NIV)
The Christian walk can be difficult to navigate, with Paul reminding believers that, despite the difficulties that might come, we can find strength in God. Accepting Christ doesn't mean life will be simple and easy — but through God, we can and will be sustained.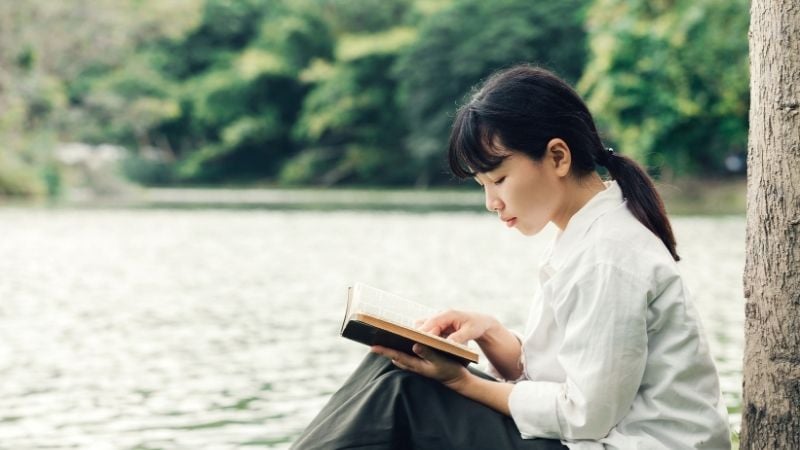 I Can Do All Things Through Christ
"I know what it is to be in need, and I know what it is to have plenty. I have learned the secret of being content in any and every situation, whether well fed or hungry, whether living in plenty or in want. I can do all this through him who gives me strength." – Philippians 4:12-13 (NIV)
True happiness can be found in Jesus, as countless Bible verses about strength tell us. Philippians 4:12-13 reminds us that no matter what we are facing, turning to God is essential, as He will help guide our paths.
God Gives Us Peace
"Now may the Lord of peace himself give you peace at all times and in every way. The Lord be with all of you." – 2 Thessalonians 3:16 (NIV)
Paul discusses prayer in 2 Thessalonians and promises believers that God will protect them from the evil they might encounter in life. In Paul's final greeting at the end of the chapter, he offers peace to his audience and reminds us all that God will always be with each of us.
Don't Be Anxious
"Do not be anxious about anything, but in every situation, by prayer and petition, with thanksgiving, present your requests to God." – Philippians 4:6 (NIV)
Anxiety holds the unfortunate power to overtake us, though we have some remedies to try and avoid it when it creeps up. Prayer is an essential ingredient to build strength and trust in the Lord. If worry overtakes you, take your fears and grievances to God.
READ ALSO: 38 POWERFUL BIBLE FOR OVERCOMING LIFE'S STRUGGLES
Be Courageous
"Have I not commanded you? Be strong and courageous. Do not be afraid; do not be discouraged, for the Lord your God will be with you wherever you go." – Joshua 1:9 (NIV)
Joshua 1:9 reminds us that we should be both strong and courageous, pushing fear and discouragement to the side. We accomplish this by putting the Lord at the center of our lives. Remember: God never leaves nor forsakes us.
Righteousness Comes Through Jesus Christ
"And this is my prayer: that your love may abound more and more in knowledge and depth of insight, so that you may be able to discern what is best and may be pure and blameless for the day of Christ, filled with the fruit of righteousness that comes through Jesus Christ—to the glory and praise of God." – Philippians 1:9-11 (NIV)
The best way to build stamina to handle the hard times is to continue building knowledge in the Lord. The more we learn, pray and read, the more ready we are to navigate strength during the hard times. It all starts with placing Christ at the center of our lives.
God Is Alive
"For the word of God is alive and active. Sharper than any double-edged sword, it penetrates even to dividing soul and spirit, joints and marrow; it judges the thoughts and attitudes of the heart. Nothing in all creation is hidden from God's sight. Everything is uncovered and laid bare before the eyes of him to whom we must give account." –Hebrews 4:12-13 (NIV)
God sees everything, including our victories and struggles. This is encouraging, as we know He is a source of strength amid troubles and a refuge for us. Knowing He is always there is a wonderful reminder for us to turn to Him regularly in prayer — in both the good times and bad.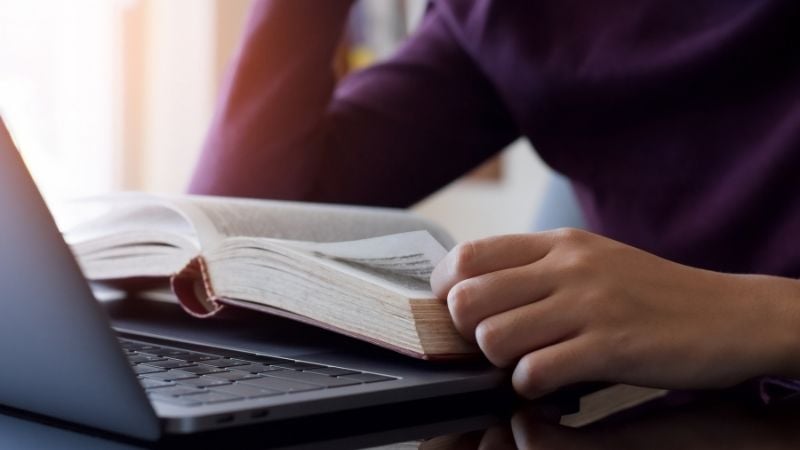 Seek Wisdom
"If any of you lacks wisdom, you should ask God, who gives generously to all without finding fault, and it will be given to you." – James 1:5 (NIV)
Tough times call for solid wisdom. James 1:5 tells us that we can ask God for guidance. While this is something we should be doing daily in our lives, it's especially important when times turn tough and we find ourselves at difficult crossroads.
Do Not Fear
"God is our refuge and strength, an ever-present help in trouble. Therefore we will not fear, though the earth give way and the mountains fall into the heart of the sea, though its waters roar and foam and the mountains quake with their surging." – Psalm 46:1-3 (NIV)
This is a powerful Bible verse for comfort and strength — one that reminds us that we have help when trouble strikes. No matter what life throws at us, we can have confidence that the Lord will meet us where we are and bring us to where we should be.
Love God With All Your Heart
"'The most important one,' answered Jesus, 'is this: 'Hear, O Israel: The Lord our God, the Lord is one. Love the Lord your God with all your heart and with all your soul and with all your mind and with all your strength.' The second is this: 'Love your neighbor as yourself.' There is no commandment greater than these.'" – Mark 12:29-31 (NIV)
In Mark 12, Jesus delivers the most important commandments He has for humanity: love God and love others. If each of us relies on the first, the second flows naturally. Living these two proclamations out can help transform our lives.
For more inspiration, check out "New Life," now streaming at Pure Flix. Curious to learn more about the story behind the making of the film? Watch the exclusive interviews and behind-the-scenes shots.