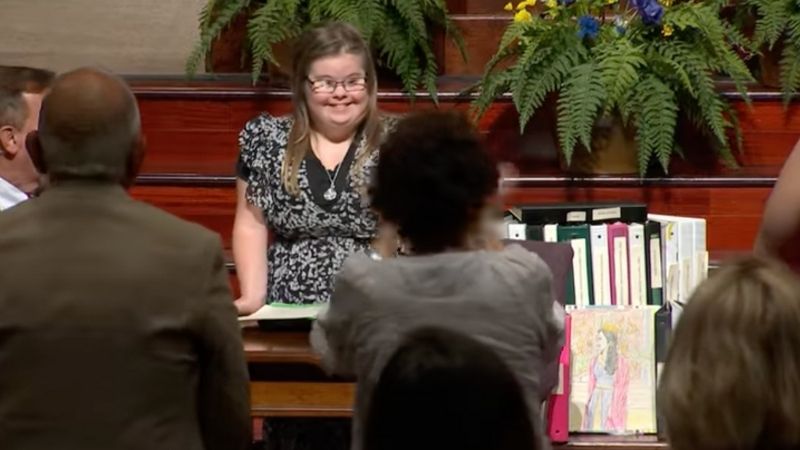 Caroline Campbell set out a decade ago to copy the entire Bible by hand — and she never once abandoned her goal.
SUBSCRIBE: WANT POWERFUL ENTERTAINMENT & NEWS STORIES DELIVERED TO YOUR INBOX? SIGN UP!
And this week, Caroline, who has Down syndrome, completed her incredible project during a special ceremony at Community Bible Church in Beaufort, South Carolina.
The 28-year-old's Bible project, which relied on the New American Standard version, resulted in a total of 10,493 pages of notepaper that now fills 43 plastic binders, as The Beaufort Gazette and Associated Press reported.
It's an incredible feat that has Campbell's mother, Jennifer, praising her daughter's resilience.
READ ALSO: 'GOD! FORGIVE ME! FORGIVE ME!': MAN REVEALS WHAT HAPPENED WHEN HE SAYS HE NEARLY DIED AND MET JESUS
"It shows more about the ability and not the disability," Jennifer Campbell told the Gazette.
Watch Caroline copy the final sentence in the Bible, thus completing her monumental task:
Caroline said she never got bored and would just "keep going" over the past decade, as she worked from Genesis to Revelation.
Her parents believe she is an inspiration and they hope others will consider copying the Bible as well.
READ ALSO: 'MIRACULOUS': 99-YEAR-OLD MAN GETS BAPTIZED FOR THE FIRST TIME
In addition to this incredible act, Caroline works part-time at a restaurant, sews, plays piano and also plays tennis in the Special Olympics.
According to her dad, Kenny, she has "carved out her own path." And part of that path is serving as an inspiration in more ways than one. Caroline takes the time to write out a portion of Psalm 23 and gives it to those who have lost a loved one. The text reads, in part, "The Lord is my shepherd; I shall not want."
Congrats to Caroline for a remarkable feat! Want more inspiration? Sign up for our Pure Flix Insider weekly e-mail for edifying content delivered right to your inbox.
OTHER MUST-READ STORIES: