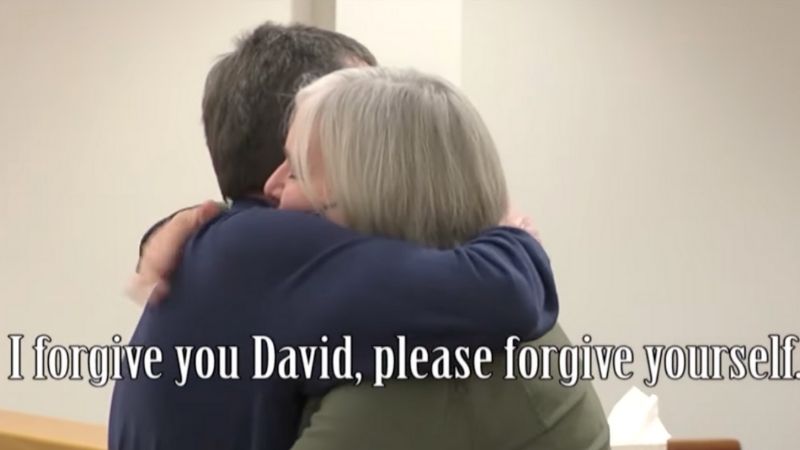 It's been one year since 58-year-old David Nelson struck a vehicle driven by beloved pastor Verlyn Strenge while driving drunk at 70 miles an hour on a Minnesota highway. Strenge was killed in the crash, his wife was seriously injured, and the lives of family, friends and church members were changed forever.
Nelson's life changed too.
WANT MORE INSPIRATION? SIGN UP FOR THE PURE FLIX INSIDER EMAIL NEWSLETTER!
In a court hearing earlier this month, Nelson was sentenced to three years in prison for vehicular manslaughter. But the real impact on his life wasn't made by the judge — it was made by the family and friends of the pastor who were in attendance.
"We forgive you, Mr. Nelson," Strenge's daughter said. "As hard as it was at first, we want you to know that we have been praying for you for the past year because we know your life has been impacted by the biggest mistake of your life."
"We have been forgiven so much; how could we not forgive you," a church member added.
It was a scene that touched everyone in attendance.
The judge said he had never seen anything like it. The county attorney cried. But the family's words made the biggest impression on Nelson.
"I very much appreciate the forgiveness aspect of what they brought up. I decided today I was not going to ask for it," he admitted.
After the hearing, Strenge's family approached Nelson to hug him and tell him they would pray for him.
"I forgive you, David," Strenge's widow said as she embraced him. "Please forgive yourself."
Before he died, Pastor Strenge's last sermon was on the topic of forgiveness. which no doubt inspired his loved ones to honor his memory in such a profound way.
The Bible says in Ephesians 4:32, "Be kind and compassionate to one another, forgiving each other, just as in Christ God forgave you."
That's the powerful, life-changing message the Strenge family shared with David Nelson—and with everyone who has now heard and watched their remarkable story.
Photo Credit: Lakeland PBS
Other Must-Read Stories: