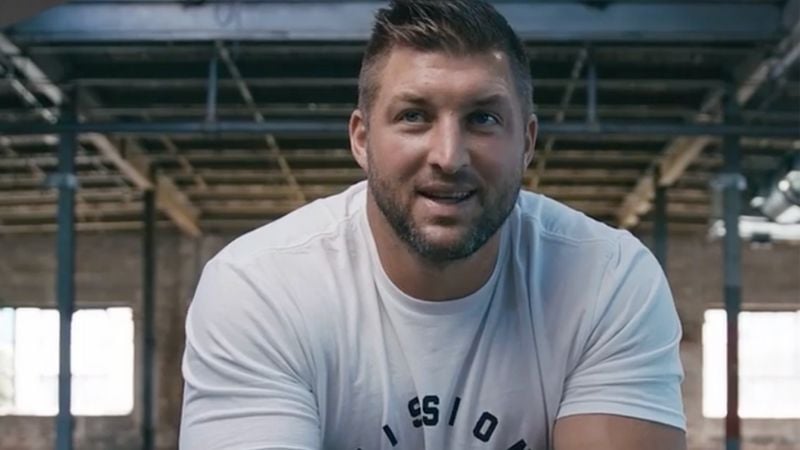 It often seems like Tim Tebow is everywhere.
Football, baseball, back to football, books, sports broadcasting… He was even a temporary co-host ABC News' Good Morning America once!
"There's so many things that I am very passionate about," Tebow confessed.
But none of those passions are as strong as his calling to serve others through the Tim Tebow Foundation.
WANT MORE INSPIRING NEWS? SIGN UP FOR THE PURE FLIX INSIDER EMAIL NEWSLETTER TODAY!
In an Instagram post last week, he shared the convictions that drive his charity work helping those with special needs, orphans and people trapped in sex slavery.
"Any time I've been convicted of something it's because God touched my heart and opened my eyes to something," Tebow said in the video.
He goes on to share how the Foundation's work building orphanages began when his dad visited the Philippines and witnessed people trying to drown a young girl in the river. And how his dad purchased girls who were being sold as sex slaves so that other men wouldn't be able to buy them, which launched the Foundation's work building safe houses for human trafficking victims.
"The only way to fully overcome that [trauma] is when they know that they're loved by us … but way more importantly, by the God of this universe," Tebow said about working to help victims find restoration and healing. "And then they realize that even though all these people have done bad things to them, there is a God that wants to do something great for them."
Rumors recently swirled that Tebow was going to be the new head coach of the Florida Gators (the team ultimately hired fellow Christian Billy Napier), it got him thinking about the future — and where his priorities ultimately lie.
"I would love to coach and love to support, build culture and love on student athletes, but I think it would be hard," Tebow explained. "I know if I did that, I would be so all-in and it would really be hard to do some of the other things that I'm so passionate about as well. No. 1 being everything that we're doing at [the Tim Tebow Foundation]."
The Foundation is currently in 67 countries, bringing help, hope and love to those in their darkest hour—and ultimately, that's Tebow's top priority right now.
"Trophies don't last. Awards come and go. Impressive titles move from one person to the next," Tebow said. "But fighting for those who can't fight for themselves can make an eternal impact."
If you want to know more about Tebow's faith and football career, watch "Tim Tebow: On a Mission" right now on Pure Flix. Not a Pure Flix member yet? Start your free trial today!
Photo Credit: Instagram
Other Must-Read Stories: