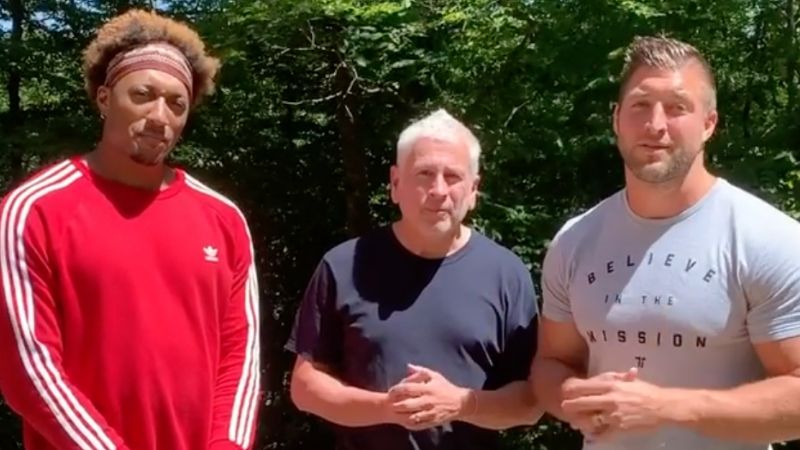 Prayers and well-wishes continue to pour in after the revelation that there is nothing more doctors can do to treat famed Christian apologist Ravi Zacharias' cancer.
Former football star Tim Tebow and rapper Lecrae are among those who have openly prayed for the evangelist, revealing the ways in which their lives have been touched.
Lecrae — a former atheist who is now a Christian — published a Facebook post this week noting how impactful the apologist's videos and sermons have been in his life.
READ ALSO: ARE SIGNS OF THE BIBLICAL END TIMES HAPPENING BEFORE OUR EYES?
"Because of #RaviZacharias I had answers to hard questions," he said. "I just want to give this man his roses while he's still here. I know God is likely taking him home soon, but I'm glad he was here during my lifetime."
Tebow also released an emotional video calling for prayer for Zacharias and his ministry.
"Please join me in prayer for Ravi and his family as he battles this fight against cancer," he said.
Watch Tebow's message:
These calls for invocations came after Zacharias' daughter, Sarah Davis, CEO of Ravi Zacharias International Ministries, released a statement announcing her father's latest health news.
"Thank you so much for your faithful prayers for my dad and for my family in recent months as he has undergone back surgery and treatment for cancer," she wrote. "Truly, words fail to convey the depths of our gratitude for your many expressions of love."
READ ALSO: PASTOR DISMANTLES POPULAR ATHEIST ARGUMENT ABOUT GOD HAVING A 'CREATOR'
But Davis went on to reveal the tragic circumstance Zacharias now finds himself in, explaining that there is no more doctors can do to help heal the apologist's cancer.

"We have just learned that while the tumor in my dad's sacrum has been responding to the chemotherapy, the area where the cancer metastasized has actually worsened," she continued. "His oncologist informed us that this cancer is very rare in its aggression and that no options for further treatment remain. Medically speaking, they have done all they are able."
Davis expressed her family's reliance on God and gratitude toward medical professionals who have helped Zacharias.
"While we are full of so many emotions, we are also at peace, resting in the truth that God knows all and sees all and is sovereign and good," she concluded. "I think of the great joy my dad will have and I am comforted."
WATCH: 5 PASTORS WHO WILL GIVE YOU AN INCREDIBLE DOSE OF HOPE
Tebow, Lecrae and others are encouraging people to share their own stories on social media along with the hashtag #ThankYouRavi.