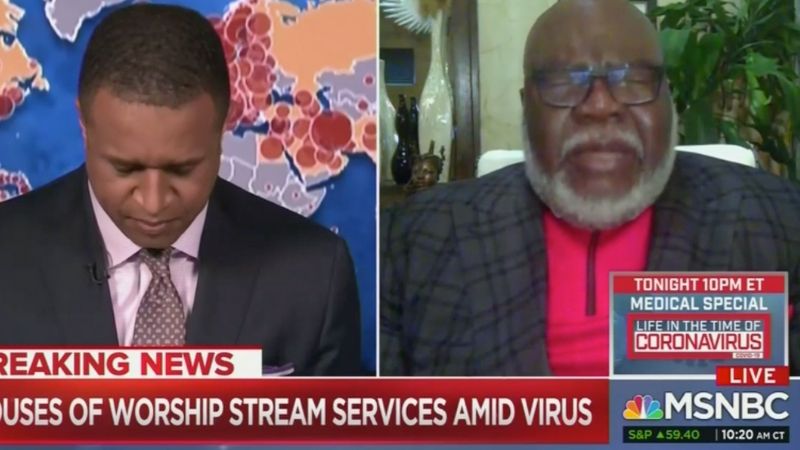 Despite the difficulties that came with 2020, there were a plethora of positive and uplifting stories. We went through all of our biggest stories to bring you three biggest, feel-good stories of 2020.
READ ALSO: Candace Cameron Bure's Proclamation About Glorifying God Sparks Rousing Applause
So, as we enter 2021, let's explore some of the most read and popular stories of the year:
A Pastor Prays on Live TV
Hands down, our biggest story of the year involved MSNBC host Craig Melvin, who shocked everyone when he asked popular megachurch pastor Bishop T.D. Jakes to lead viewers in prayer ... on live TV.

The moment unfolded when Melvin was speaking with Jakes about the COVID-19 crisis. Melvin abruptly posed a fascinating question: "For folks who aren't able to get to church yesterday, I've never actually done this on the air. Can you lead us in prayer for 30 seconds?"
Jakes obliged:
Read more about what unfolded here.
Justin Bieber and His Wife Get Baptized
Next, comes a story involving pop star Justin Bieber. Bieber has continued to share his Christian faith on social media, but the singer captured even more attention when he revealed that he and his wife, Hailey, were baptized together.
SIGN UP: Get the Pure Flix Insider Email for Weekly Inspiration
"The moment @haileybieber my wife and I got baptized together!" Bieber wrote, sharing images of the baptism. "This was one of most special moments of my life. Confessing our love and trust in Jesus publicly with our friends and family."
See the touching moment here.
Denzel Washington Talks Faith
And last but not least comes our popular story about actor Denzel Washington, who revealed during a discussion with New York City Pastor A.R. Bernard, what happened when he was "filled with the Holy Ghost."
He told Bernard how the "supernatural" experience impacted him and recounted how he eventually came to live a Christian lifestyle.