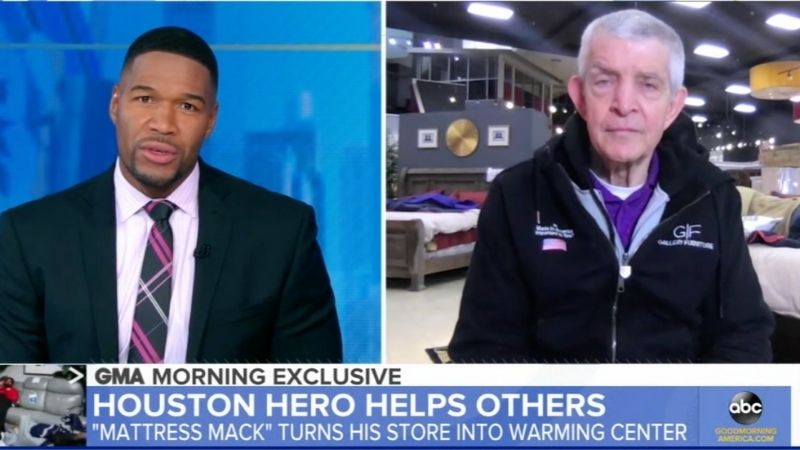 As Texans continue to languish amid unprecedented winter weather that has caused disruptions in heating, electric and water, a Texas businessman has stepped up to help in a big way.
READ ALSO: Corrie ten Boom: The Hero Who Saved Hundreds During the Holocaust
Jim "Mattress Mack" McIngvale, owner of Gallery Furniture, opened up two store locations in Houston and Richmond to offer shelter to people and families who were left without heat and power, KTRK-TV reported.
With generators at the stores that can keep the locations running for days, he decided to put his locations to good use, keeping people warm, fed and comfortable during their greatest time of need.
"[There are] lots of people with lots of needs, and we are more than happy to open this furniture store to serve the community because that's why we exist," McIngvale told "Good Morning America" on Thursday.
READ ALSO: Hero Kid Is on a Mission to Help During COVID19
This kind gesture was a welcome solace for around 1,000 people who went to the store on Monday and Tuesday, alone, to escape the weather and get some food, with 300 people spending the night inside, according to KTRK-TV.
This incredible act of goodness was something for which the furniture store owner had been preparing.
"We were prepared from the get-go to open up depending on how serious it was," McIngvale told AccuWeather. "When the massive outages because of the lack of electricity began to happen, I knew it was time to act because so many people [were] at home in the cold, in the dark."
McIngvale had to close down one of the store sites due to a water pipe bursting, but has continued to work through these challenges to keep people safe at the other location. And other businesses are helping as well.
READ ALSO: 38 Bible Verses For Overcoming Life's Struggles
Portable restrooms, water bottles, food and mattresses are coming in from local companies, and there are even balloon animals and face-painting activities for the children.
McIngvale delivered a powerful message to "Good Morning America" about how people have come together in the midst of tragedy. Rather than fighting and placing blame over the crisis, he encouraged people to "focus on our similarities" and "help each other have a better life."
SIGN UP: Get More Stories Like This Delivered to Your Inbox
"As I was walking around last night talking to these people — all races, all colors, all creeds, all ages — they had that American optimism that tomorrow was going to be a better day," he said.
This isn't the first time McIngvale has stepped up to help his fellow residents, as he also opened up the store to help those displaced by Hurricane Harvey in 2017.