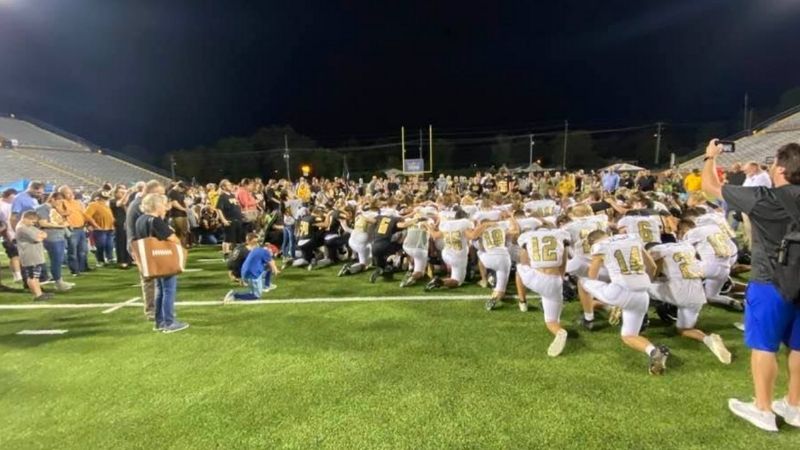 A Tennessee high school football player who led his team and community in prayer after coaches and school staff were banned from doing so is speaking out about why he took a stand.
WATCH INSPIRING MOVIES LIKE 'GOD'S NOT DEAD 2' ABOUT PEOPLE STANDING UP FOR THEIR FAITH
Elijah Burgess, who plays on the Upperman High School team, said he decided to take the lead after school officials banned coaches and parents from leading or participating in invocations with students, Fox News reported.
"One of the things that growing up I never thought would happen is that I would be told not to pray," Burgess said in an interview with "Fox & Friends," noting that he felt he had to lead prayer after the policy was implemented. "That's like one of the things that I've got to do if someone tells me not to do."
Here's the touching photo of football players leading last Friday's prayer:
POWERFUL PHOTO 🙏🏈Football players led parents and fans in prayer after Friday night's game in Putnam County after coaches were told they can't lead students in prayer https://t.co/pgXAkZI1K3 pic.twitter.com/arAH2zjv6p

— FoxNashville (@FOXNashville) September 20, 2021
The idea for student-led prayer came after parents heard about the newfound policy that would preclude staff from leading invocations. Putnam County Schools put out a statement clarifying that students are free to participate in prayer, but that staff, coaches and teachers cannot.
"As a district, we absolutely understand the importance of prayer in the lives of our students, faculty, and staff members. We support the right of students to participate in and lead spontaneous prayers," the district said. "That right is and will continue to be protected. We also understand that faculty and staff members can not lead or participate in the spontaneous student-led prayers."
READ: CHECK OUT OUR INSPIRING DAILY PRAYER GUIDE
At least one parent expressed frustration that her child couldn't seek prayer from trusted coaches and mentors.
Christa Mullins, the mom of a football player at Upperman High School, expressed her views on the matter.
"I'm a single mom, and my son looks up to his coaches not only as coaches, but mentors and even friends," she told Fox News. "I think it's important for the youth to be able to go up to a teacher or coach – these are lifelong relationships – and ask, 'hey, can you pray with me?' So to be told that they can't do that is where I'm frustrated."
Continue to pray for this community — and congrats to Burgess and other students for standing up for their faith. Want more inspiration? Stream inspiring movies about people standing up for their faith like "God's Not Dead 2" and "God's Not Dead: A Light in Darkness."
OTHER MUST-READ STORIES: