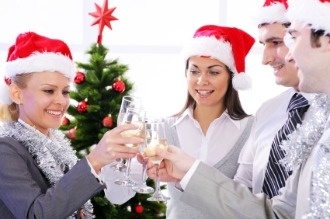 The so-called War on Christmas, along with the rising tide of political correctness, are creating waves in Tennessee.
According to the Blaze.com, the University of Tennessee in Knoxville—a public university— has provided its employees with a set of guidelines to ensure that holiday parties are not turned into Christmas parties or have any religious themes. And several politicians are so dismayed they are calling for the school's chancellor to resign.
The list of guidelines on the University of Tennessee website provided guidelines on what is and isn't appropriate for holiday gatherings. One of the "pointers" clearly resonated with us: "Holiday parties and celebrations should celebrate and build upon workplace relationships and team morale with no emphasis on religion or culture. Ensure your holiday party is not a Christmas party in disguise."
Read Also: Bringing Christ to Hollywood: One Prayer at a Time
Even something as benign as sharing gifts via the time-honored "Secret Santa" game is apparently out of the question. Score another one for the political correctness police.
It's our feeling that how Christmas is celebrated is up to an individual or a family, not any governing body or city, state or in this case, publicly funded university. As one Facebook poster indicated, if a person doesn't feel comfortable going to a Christmas party, simply don't go.
Let's face it, government oversight in our lives isn't any thing new. Even in Isaiah 9:6 (For unto us a child is born, unto us a son is given: and the government shall be upon his shoulder...) "government" is used as a synonym for burden.
As the College Fix reported, the list of guidelines isn't enforceable by the university, but a spokesperson indicated that it is "committed to a diverse, welcoming and inclusive environment."
"No one can 'get in trouble' if they choose not to use these best practices," Lili'a Uili Neville, a spokeswoman for the university's Office for Diversity and Inclusion, told the College Fix. "They are an online resource for faculty and staff to review if they are interested in creating a more inclusive holiday environment within their departments and administrative units."
Read Also: Making Time for Prayer: Why Putting God First is Best
According to The Blaze, several local and national politicians have said their constituents disapprove of the public university publishing — and promoting — the guidelines.
The Knoxville News Sentinel reports that Republican state legislators — Senate Education Committee Chairman Dolores Gresham and Senate Government Operations Committee Chairman Mike Bell — are calling for University of Tennessee at Knoxville Chancellor Jimmy Cheek to resign.
"By placing a virtual religious test regarding holiday events at this campus, every student who is a Christian is penalized," Senate Education Committee Chairman Dolores Gresham said.
"We are in no way trying to dismiss this very important tian holiday," Cheek said in a statement to the Nashville Tennessean newspaper. "As a diverse campus, we do promote ways to be inclusive of all cultures and religions. I am disappointed that our efforts to be inclusive have been totally misconstrued."
Not a member of the Pure Flix Digital Streaming Service
and start enjoying thousands of Christian and family-friendly originals, movies, TV shows, and educational programming online anytime, from virtually anywhere, on any device, FREE for a month.