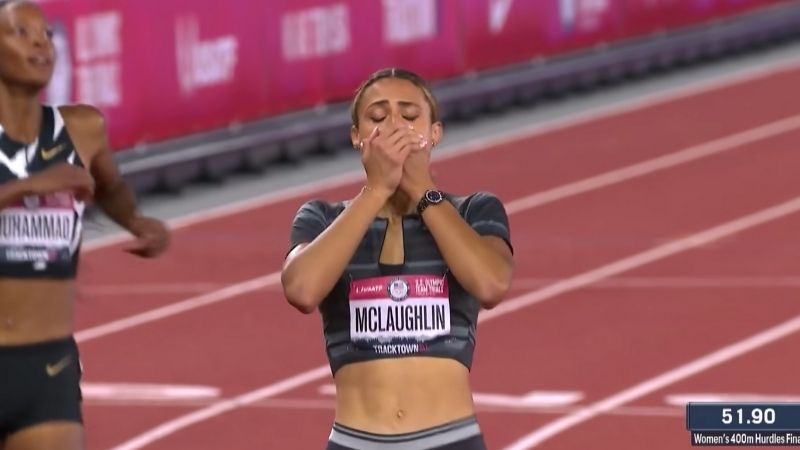 In an emotional video posted to Instagram, Olympic gold medalist and world record holder Sydney McLaughlin shared her heart on how she doesn't feel good enough.
The 21-year-old, two-time Olympian and world record holder vented about the toxicity and hatred running through our culture, especially on social media. But, she said she has her hope in the one true source: Jesus.
"I'm so grateful I don't live for the approval of people anymore. If I did my tank would be so empty," she said in the video that has been liked and shared thousands of times. "The perspective of knowing that none of this matters is life changing … We were not made to carry so much weight and so much tension on us. We were not made to be famous – that was never what God intended for us. The only person who is strong enough to carry that is Jesus."
The feeling of not being enough can be pervasive in a world obsessed with the next social media post, like or comment. But, placing our hope in God and knowing that we are "fearfully and wonderfully made" in His image can reassure us in any moment of doubt. Read more from Psalm 139:14 here.
READ ALSO: THE 9 CHRISTIAN VALUES THAT CHANGE LIVES
Here's the whole video:
In her post, that has been viewed more than 1 million times, she gave the glory to God for renewing her mind and for the changes that Jesus is working in her life.
"I couldn't understand two years ago why I wasn't there and why I was falling short. I think God was saying that it wasn't my time," she continued. "I think He needed me to mature in who I am as a woman and in my relationship with Him. He needed me to figure that out before He could give me this heavy load to carry. He knew I needed Him in order to carry it. Even in this season of such growth and change … it's still such a test of faith."
McLaughlin broke the world record in the women's 400 meter hurdles with a time of 51.46 seconds to win the Gold Medal during the Tokyo Olympics earlier this month. The video was made from her car just two days after the Olympic trials in July 2021 – where she broke the previous world record with a time of 51.9 seconds in the same event. Her first reaction following both record breaking runs was to give all the glory to God.
She said she had to take a break from social media prior to the Olympic trials because of the anxiety she started having over the toxic culture. She again praised God for giving her the platform to reach millions of people and to have the chance to glorify Him – and then prayed for healing.
"It's a sick world. There's so much good in this world, though. I pray for healing. I really hope that people can see that they don't have to live in this world of hate. There is such a better way," she said.
OTHER MUST-READ STORIES: