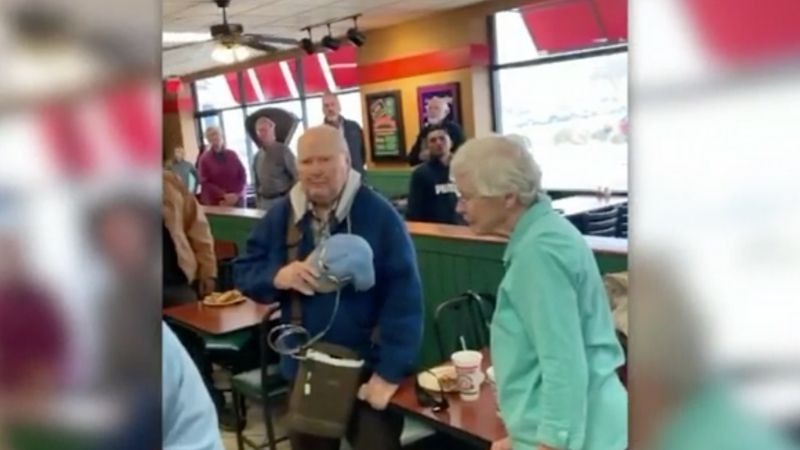 A kind and simple gesture can go a long way. We can see this reality play out in a 2019 story about middle school students who delivered an impromptu performance of the national anthem to a dying veteran.
SIGN UP: GET POWERFUL FAITH & CULTURE NEWS DELIVERED TO YOUR INBOX EACH WEEK
The story unfolded when students from Mission Trail Middle School in Olathe, Kansas, were on a field trip in November 2019 and stopped for lunch at a local shop.
Chorus teacher Teresa Murray Posey noticed a man named Roy Blackburn, a Navy veteran who also worked as a former fire marshall. Rather than ignore him, she and the kids approached and asked if they could sing, KMBC-TV reported.
He said "yes," and that's when they serenaded Blackburn with "The Star-Spangled Banner" — an act that left him deeply moved.
"God bless you," he said after the performance. "Do whatever you can for this wonderful country we live in."
As it turns out, Blackburn was in hospice at the time and wanted to have some pizza. Posey said the entire restaurant stood in honor of the man.
"He was on oxygen and he stood up and took his hat off and his wife stood up,"' Posey told Fox News. "They were crying. They were all in tears. The restaurant was in tears."
READ ALSO: 'I FULLY ACCEPTED CHRIST': OLYMPIC GOLD MEDALIST VINCENT HANCOCK CREDITS HIS SKEET SHOOTING WINS TO GOD
Blackburn told FOX4 News after the touching moment that he decided to "stand up, cover my heart and enjoy my blessings."
The veteran died just a few months later and some of the kids sang at his funeral. His family said they'll never forget that moment inside the restaurant.
The media, too, have repeatedly covered the story in the nearly 24 months since it unfolded, showing the transformational power of the kind act.
Be sure to sign up to receive stories like this — important faith and culture news — in your email each week.