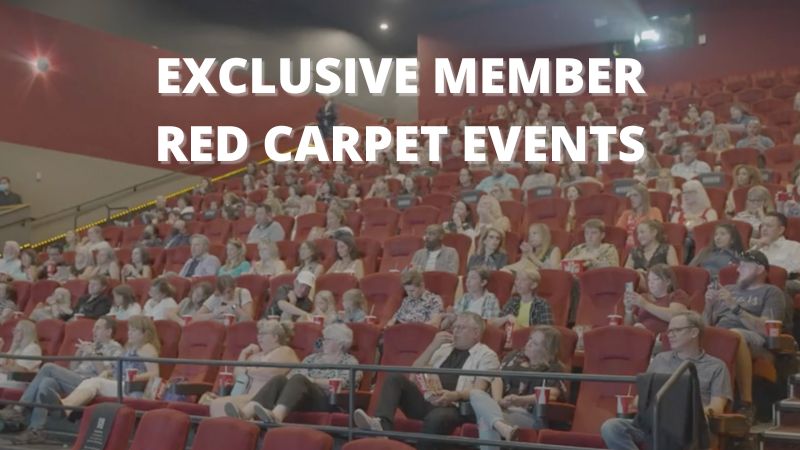 There's something so unique and exciting about movie theaters. The smell of popcorn, the satisfying beep of tickets being scanned, the thrill as you settle into big cushy seats. Finally, a surge of anticipation as the lights dim and you get ready to experience a movie for the first time.
Now, Pure Flix is making that experience even more exciting with special member-only screenings across the country. If you want the thrill of experiencing a movie before anyone else, then this is your chance: Pure Flix is the only streaming platform to offer special member-only screenings.
BE THE FIRST TO LEARN ABOUT FUTURE PURE FLIX SCREENINGS: SIGN UP FOR THE PURE FLIX INSIDER EMAIL NEWSLETTER TODAY!
Thus far, Pure Flix has hosted screenings for the new Pure Flix original movie "Strong Fathers, Strong Daughters" and the Pure Flix exclusive "The Case for Heaven." But the fun won't stop there – we have more planned for new releases this fall, and we want you to be a part of it!
'Strong Fathers, Strong Daughters' Screenings
Pure Flix hosted screenings for its newest original film, "Strong Fathers, Strong Daughters," for our loyal members in select cities across the country, including Orange County, Phoenix, Nashville and Dallas. Our members showed up and the response to the movie was remarkable. From a couple who just got married and brought their families, to a father of six children at varying stages of life, this film touched the hearts of everyone who attended.
"It hits home for me. I have five daughters. There's a lot of work and a lot of change that needs to happen to me as a result of watching this film. The story and what it's teaching, is powerful," said Jerrone, who attended the screening in Orange County, California.
'The Case for Heaven' RoundTable Discussion
Lee Strobel himself and director Mani Sandoval hosted a screening of the Pure Flix exclusive film "The Case For Heaven," which was based off Strobel's best-selling book by the same title. From the author and former atheist turned Christian apologist who investigated "The Case for Christ," Lee Strobel was inspired to explore the evidence for an afterlife and how to address mankind's biggest fear: death. Members were amazed at how the film deepened their own faith and gave them a different perspective on what death is.
"The movie is able to reach both our heads and our hearts. There's moments that bring tears to my eyes ... I don't get that when I read the book," Strobel says.
Ready to Attend?
Excited to attend one of our member screenings yourself? You're in luck – the red carpet may soon be coming to a city near you! Don't forget, in order to attend future Pure Flix member-exclusive movie screenings, make sure to become a Pure Flix member today.