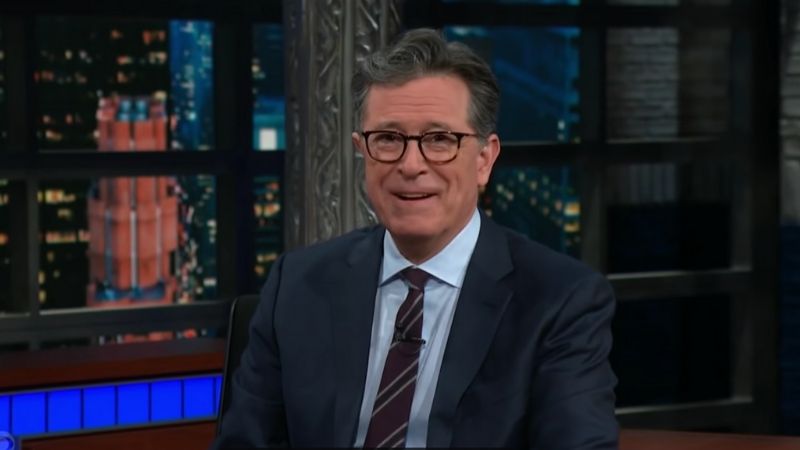 If there was one book you think everyone should read, what would it be?
For "Late Show" host Stephen Colbert, the answer is simple: "The Bible."
WANT MORE ENTERTAINMENT NEWS? SIGN UP FOR THE PURE FLIX INSIDER EMAIL NEWSLETTER TODAY!
Colbert recently sat down for an interview with The Wall Street Journal, and shared some surprising insights (for those who don't know his religious history) on the Bible and his Catholic faith.
"In a western context, there is almost nothing from about the fourth century on that isn't influenced by [the Bible]," said Colbert, a former Sunday school teacher. "Regardless of whether the book means anything to you, you should read that book to know what all those other writers were talking about or what their frame of reference was."
That includes the history of America's founding, which Colbert describes as "optimistic."
"I think America is essentially an optimistic country. That's the nature. 'A more perfect Union' is an optimistic thing to say," he explained, quoting the Preamble to the U.S. Constitution.
READ ALSO: ACTOR CHRIS TUCKER CHOSE FAITH OVER $10 MILLION MOVIE ROLE: HE SAID NO TO LANGUAGE & SMOKING
And then theres' what he said during a now-viral video last month when singer Dua Lipa asked Colbert about his faith. During that talk, which has been viewed more than 1 million times, Colbert said his faith influences his comedy in a lot of ways – mainly his knowledge that this life is only temporary, which is why people should laugh more.
"If there's some relationship between my faith and my comedy, it's that no matter what happens, you are never defeated," Colbert said. "You must understand and see this in the light of eternity and find some way to love and laugh with each other."
While Colbert was raised in a Catholic home, his walk with Jesus was not without its struggles. After losing his dad and two of his older brothers in a plane crash when he was 10 years old, Colbert began to question his faith.
"I had lost my faith in God, to my own great grief," Colbert said in a 2018 interview. "I was sort of convinced that I had been wrong all this time, that I had been taught something that wasn't true."
It wasn't until a stranger handed him a pocket New Testament that God really became alive to Colbert. He looked in the index for verses on anxiety, something he was personally struggling with and was directed to Jesus' Sermon on the Mount:
"Therefore I tell you, do not worry about your life, what you will eat or drink; or about your body, what you will wear. Is not life more than food, and the body more than clothes? … Can any one of you by worrying add a single hour to your life? – Matthew 6:25, 27
"I stood on the street corner in the cold and read the sermon," Colbert said. "And my life has never been the same."
And while he may not have said it in his most recent interview, if there was ever a reason to read the Bible, the life-changing power of the Word of God that Colbert experienced is definitely it.
Photo Credit: YouTube
Other Must-Read Stories: