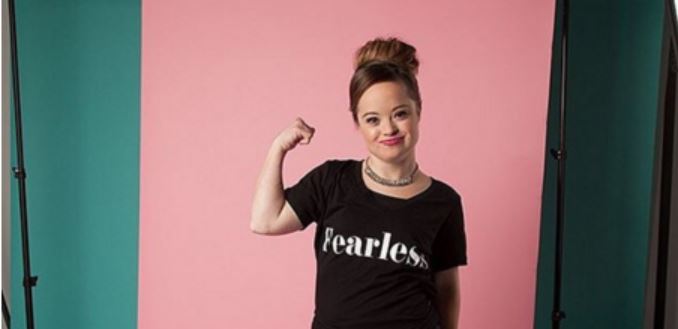 The Psalmist tells us in Psalm 139:14 (KJV), "I will praise thee, for I am fearfully and wonderfully made: marvelous are thy works; and that my soul knoweth right well." Undoubtedly, the brand Beauty & Pin-Ups agree with the Psalmist when it comes to Special Olympian, Katie Meade, age 32, as they have named her the first woman with Down Syndrome to be featured in a beauty product ad campaign.
Meade is the latest model to demonstrate how some beauty and fashion brands are beginning to challenge fixed beauty standards in the industry.
As a child, Meade underwent two open heart surgeries, overcame numerous health challenges, experienced bullying, and yet, through it all, she remained Fearless. As a Special Olympian, Meade would compete in not one, but two sports, gymnastics and basketball. It is no wonder that Beauty & Pin-Ups named its new "Fearless" hair product after her. The brand states on its Facebook page, "Katie is a role model for people of all ages, disability or no disability, because beauty belongs to everyone."
Read Also: The Joy of Seeking God First
If it's one thing we can learn from Meade, it is own who we are, because there is beauty in diversity. God has created each one of us to serve a unique and important purpose in this world. To deny this through bias and judgement blocks the potential of what our life on earth can really mean to ourselves, our neighbors and the culture as a whole.
Romans 12:2 (KJV) tell us, "And be not conformed to this world, but be transformed by the renewing of your mind, that ye may prove what is good, and acceptable and perfect will, of God." Today, we challenge you to make the choice to be inspired, not just by others, but by God's creation of the man in the mirror, who is YOU.
Today, we challenge you to purposely feed your mind with inspiring and victorious stories about a loving God who creates a "fearfully and wonderfully made" humanity.
If you enjoyed this story of Katie Meade, then we recommend the family-friendly movie, "Until Forever," which tells the courageous story of Michael Boyum. You'll find the charms of another talented star with Down Syndrome who takes the stage in "Until Forever," a powerful new Christian movie about love, family, cancer, and hope. To watch "Until Forever," visit PureFlix.com and sign-up for a free one month trial.