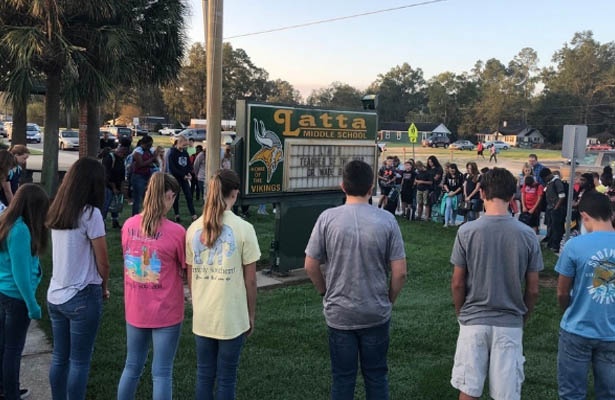 For nearly three decades, kids across America have gathered around their school flagpoles for a special morning of prayer — an event in which young Christians invoke God on behalf of their communities and schools, asking for His intervention. See You at the Pole™, which unfolded nationwide last week, yielded powerful images of faithful kids' love for the Lord.
Read Also: This Is For All Parents Looking to Teach Kids Good Character
See You at the Pole started back in 1990 when 10 students in Burleson, Texas, gathered to pray. That group of teens was so burdened for their community that they drove to three schools on one Saturday night and prayed around the flagpole at each location.
As the National Day of Prayer website proclaims, "Those students had no idea how God would use their obedience."
Here's more about the roots of this amazing event:
God used what He did among those teenagers and others who were holding similar prayer meetings at their schools to birth a vision in the hearts of youth leaders across Texas. The vision was that students throughout Texas would follow these examples and meet at their school flagpoles to pray simultaneously. The challenge was named See You at the Pole™ at a brainstorming session during a meeting of key youth leaders. The vision was shared with 20,000 students in June 1990 at Reunion Arena in Dallas, Texas.
Then, on the morning of Sept. 12, 1990, a stunning thing happened: 45,000 teens met at flagpoles in four states to pray before school — and it didn't end there.
In September 1991, momentum once again built, as an estimated 1 million kids gathered from across America, singing, reading the Bible and praying.
Read Also: 'The Middle' Star Reveals How He Has Kept His Faith in Hollywood
More than two decades later, an estimated 3 million kids across the globe take part each year in See You at the Pole. These kids and teens come together at private, public and homeschool locations to pray and seek God.
We'll leave you with just some of the powerful images of young people who took a bold stand for the Lord during the September 26 event:
See You At The Pole 2018. #syatp pic.twitter.com/CGlSNbUYOo

— THR33 (@THR33YOUTH) September 26, 2018
Praise God for the students in our community that came out to pray for the students, school and community we live in, it was awesome! #SYATP pic.twitter.com/wX62OXA44q

— Misty Houston (@myphouston) September 26, 2018
Small but strong group braved the chilly morning for See You at the Pole! It was a great morning of prayer time for our school, staff, and students! #SYATP pic.twitter.com/pai90jHjjN

— ChrismanFCA (@ChrismanFCA) September 26, 2018
36 people at Mascoutah HS and 16 at Mascoutah Middle School calling out to God to start out See You at the Pole day #syatp pic.twitter.com/J0sp9OOBJG

— Matt Burton (@Mburton1967) September 26, 2018
I have to admit that this sight..LCHS students joining in prayer for #SYATP...does my heart so good today!! There are too many negative things written and said about our youth today, so how about a HUGE SHOUTOUT to these young people for taking a stand for God and praying today! pic.twitter.com/CknvJLFXDJ

— Tim Estes (@wpbktim) September 26, 2018
See You At The Pole in Latta, South Carolina this morning! Encouraged to see so many students praying! #SYATP pic.twitter.com/QiUt3L999b

— Rob Pierce (@repierce) September 26, 2018
The amount of participants for SYATP yesterday was amazing! Don't stop praying for your schools just because it's September 27! #syatp pic.twitter.com/y7gC2L7imT

— See You At The Pole (@SeeYouAtThePole) September 27, 2018