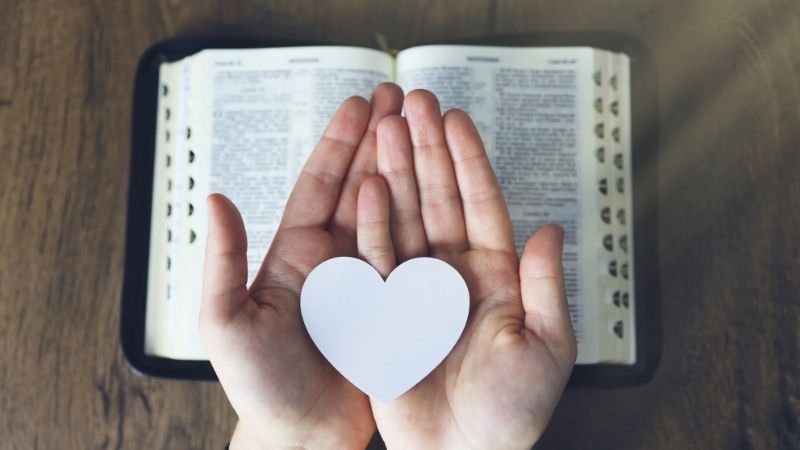 Entertainment headlines this week have been dominated by rapper Lil Nas X's Satanic-themed music video and his so-called "Satan shoes," sneakers that contain a drop of human blood, a reference to Luke 10:18 and a pentagram.
WATCH: CHRISTIAN MOVIES THAT TEACH THE FRUIT OF THE SPIRIT
All 666 pairs of these sneakers quickly sold out on Monday, leaving many people of faith shocked, dismayed, frustrated and confused. While the story certainly isn't the first of its kind, some see it as evidence of the increasingly dire state of culture.
But no matter how it made people feel, how should Christians react to this story? And, more broadly: How are believers called to respond when someone seeks to intentionally offend? These are essential questions to ponder this week.
It's certainly easy to become angry and even worried for culture when imagery and events like this unfold and are perpetuated. No matter the initial reaction, though, Jesus and the Bible point to some timeless truths about how we should tackle the Lil Nas X debate or any similar matter.
READ ALSO: 3 WORDS IN JOHN 13:24 THAT COULD CHANGE EVERYTHING: 'LOVE ONE ANOTHER'
To begin, we're called to pray for others — and specifically, those with whom we disagree, those who have offended us and even those who see us as "enemies." Jesus breaks this down in one of the most powerful scriptural segments on loving others. You can find his powerful words in Luke 6:27-36 (NIV):
"But to you who are listening I say: Love your enemies, do good to those who hate you, bless those who curse you, pray for those who mistreat you. If someone slaps you on one cheek, turn to them the other also. If someone takes your coat, do not withhold your shirt from them. Give to everyone who asks you, and if anyone takes what belongs to you, do not demand it back. Do to others as you would have them do to you.

If you love those who love you, what credit is that to you? Even sinners love those who love them. And if you do good to those who are good to you, what credit is that to you? Even sinners do that. And if you lend to those from whom you expect repayment, what credit is that to you? Even sinners lend to sinners, expecting to be repaid in full. But love your enemies, do good to them, and lend to them without expecting to get anything back. Then your reward will be great, and you will be children of the Most High, because he is kind to the ungrateful and wicked. Be merciful, just as your Father is merciful."
Let's briefly break down some of the take-aways we can glean from these important scriptures (read the rest of Luke 6 on Biblica here):
1) Love your enemies: This is stated plainly and simply in Jesus' proclamations. While it's easy to tweet, Facebook and yell back at people, doing so isn't only ineffective, but it also fails to show love for others. Many times, these moments are an opportunity to show Jesus' radical love for others by demonstrating kindness for those who intentionally offend us. This doesn't mean sacrificing truth; it simple means reacting as Jesus would.

2) Pray for those who mistreat you: Even though anger and rage are sometimes our first emotional reactions when we encounter offense, Jesus tell us to pray for those who mistreat us. This is an act of love and kindness, and one that seeks to push past the anger and frustration and through the cloud of chaos in hopes that God reaches peoples' hearts and minds.

3) Do good to enemies: This again speaks to how we decide to react to those who offend or hurt us. Jesus doesn't say "scream and rant back." Yes, we are called to speak for truth and to love God in the process, but we're also called to love others and, according to these scriptures, to "go good" to those who hurt us.
Others have reflected on the importance of striking this tone, even amid emotionally-charged scenarios.
READ ALSO: NEED HELP FOSTERING THE FRUIT OF THE SPIRIT? HERE'S A FREE DEVOTIONAL
Tre Goins-Phillips of Faithwire offered his own take on the opportunity Christians have in the midst of the Lil Nas X controversy — and really any other act of offense or debate. Here's what he had to say:
As Christians, we have an obligation to expose sin. In his letter to the believers in Ephesus, Paul urged them not only to "take no part in the unfruitful works of darkness," but also to "expose them," because "the days are evil" (Ephesians 5:11).

Our exposure, though, has to be Gospel-oriented.

The Holy Spirit should produce within us the right temperament and heart to listen with empathy and to speak truth hopefully. In his letter to the churches of Galatia, Paul said the Holy Spirit should cultivate the fruit of "love, joy, peace, patience, kindness, goodness, faithfulness, gentleness, [and] self control" (Galatians 5:22-23).

In summary, we should love, pray for and do good to others — even those who disagree with us, or who intentionally seek to offend. Let's all pause and take a moment to pray this week, to reflect and to consider how to respond in a truly "Gospel-oriented" way.
Want help fostering the fruit of the spirit? We have a helpful devotional you can download for free today.
RELATED STORIES WORTH READING: