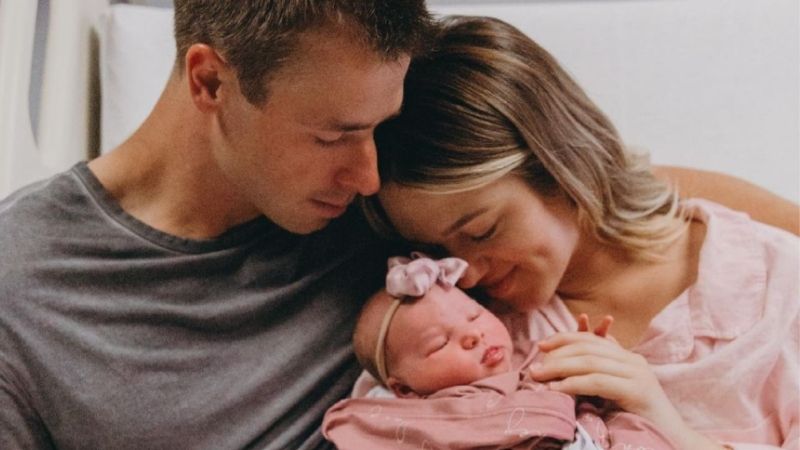 "Duck Dynasty" star Sadie Robertson delivered a baby girl on Tuesday whom she and her husband, Christian, named Honey.
READ ALSO: 'DUCK DYNASTY' STAR SADIE ROBERTSON HUFF PRAYS OVER HER UNBORN CHILD — PLUS: SHE REVEALS THE BABY'S NAME & THE BIBLE VERSE THAT INSPIRED IT
Huff posted images of her adorable baby along with a powerful message about miracles and God.
"We saw a million little miracles yesterday - the best one being this girl right here... Honey," she wrote, including a photo of her, Christian and the baby. "The pure goodness of God."
In a separate post on Thursday, Huff shared additional photos of Honey and revealed that she is 9 pounds 5 ounces.
As Pure Flix Insider reported, Huff recently revealed the Bible verse that inspired her decision to name her baby Honey — and openly prayed over her expected child.
WATCH: STREAM THOUSANDS OF FAITH AND FAMILY-FRIENDLY MOVIES AND TV SHOWS
"Going ahead and telling the world our sweet baby's name because I would rather y'all hear it from me and Christian [than] things going around. This little girl and her name already mean the world to us," Huff wrote on Instagram back in April, before revealing the name: Honey James Huff.
The reality TV star, author and speaker, went on to cite Proverbs‬ ‭16:24‬, which reads, "Gracious words are like honey, sweetness to the soul and health to the body."
Huff said she had always loved the verse, and explained that she and her now-husband, Christian, went through Proverbs when they were a couple; during that study, the scripture once again stood out to her.
READ ALSO: 5 FAMILY MOVIES THAT WILL MAKE YOU BELIEVE IN MIRACLES
She recalled pausing when she reached Proverbs 16:4 and speaking special words to Christian, telling him, "You have words like honey. They are so sweet and are healing places in my heart I didn't even know needed to be healed." Christian's love for her — and the way he spoke — made her once again ponder the meaning of "honey" in that verse.
You can read more about Honey's name here.
Congrats to Sadie and Christian Huff!
Featured Image Credit: Sadie Robertson/Instagram
OTHER MUST-READ STORIES: