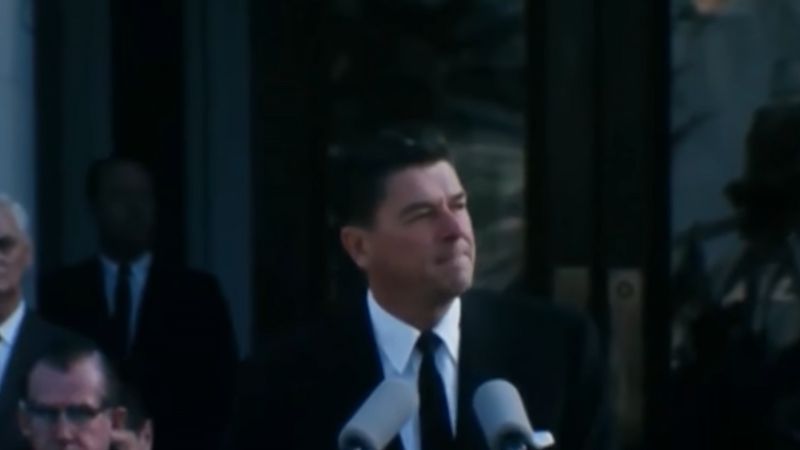 President Ronald Reagan was known for his commitment to freedom and family values. Affectionately known as the "Great Communicator," Reagan's passionate speeches on the fragility of American liberty and the American dream throughout his political career have inspired generations.
They even played a role in the Pure Flix original film "God's Not Dead: We the People." The film included one on his most famous quotes on freedom, which he gave during his inaugural address as the governor of California:
"Freedom is a fragile thing and it's never more than one generation away from extinction. And those in world history who have known freedom and then lost it have never known it again."
WANT MORE INSPIRATION? SIGN UP FOR THE PURE FLIX INSIDER EMAIL NEWSLETTER!
But there was one thing even more important to Reagan that likely served as the foundation of everything he believed and wanted for his country—his faith.
In a recent interview, one of the actors for the upcoming "Reagan" film, which is expected to release in 2023 and stars Dennis Quaid as Reagan, talked a little more about where the 40th president's faith came from and how it inspired him.
"[His mother gave him] a book called "That Printer of Udell's," and Reagan sees himself in the main character of that book, a young man who finds God and goes to Washington to become a congressman," explained actor Chris Massoglia, who plays gospel legend and Reagan's good friend Pat Boone in the film. "[It] ends up shaping [his life]."
In fact, a letter written by Reagan's mother, Nelle Wilson Reagan, which was published in 2018, illustrates the lasting legacy her devout faith had on her son—and in turn our nation. The letter, written in 1937, tells the story of how a friend found the future president on his knees praying shortly before he was offered a 7-year contract with Warner Brothers Studios.
"Friends, he does love God and he never forgets to thank Him for all his many blessings," she wrote.
And while Reagan was far from perfect, his commitment to upholding freedom and celebrating our God-given liberties have left a lasting impact on millions, including Massoglia, who is also a Christian.
READ ALSO: 'I CAME BACK TO CHRISTIANITY': ACTOR'S CHRISTIAN FAITH INSPIRES UPCOMING GOSPEL ALBUM
"I wasn't alive during his presidency but studying him and his impact, I have a great appreciation for Reagan and the America I inherited because of him," he said. "This experience has given me a great appreciation for Reagan's stand against communism and for the principles of freedom that he believed in."
And if you're looking for a powerful faith-filled film to watch today in honor of the holiday, be sure to check out "God's Not Dead": We the People" right here on Pure Flix!
Photo Credit: "God's Not Dead: We The People"
H/T: The Christian Post
Other Must-Read Stories: