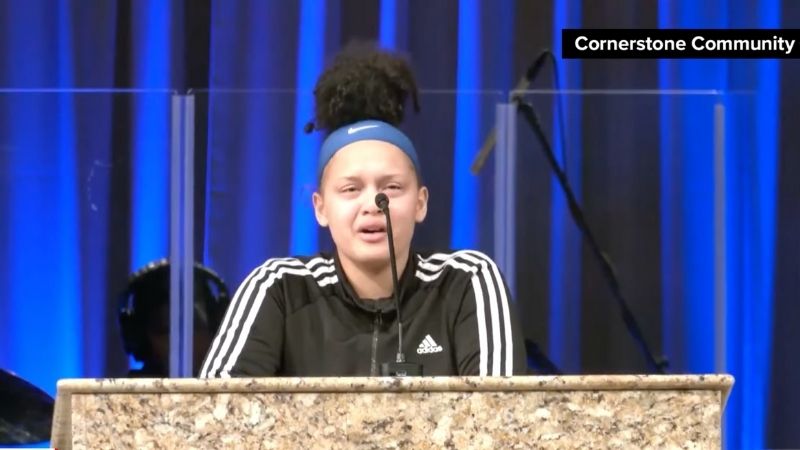 In a stunning display of grace, a 15-year-old high schooler offered prayer for a classmate who opened fire at her school only hours before.
"I want to pray for the shooter, Lord God," prayed Ashlyn Henson. "That you'd touch his mind. Touch his heart, Jesus. That you allow him to see his wrong. That you allow him to feel that remorse and that pain he caused. And that he fixes himself in your eyes, Lord God."
See the full video below:
"I just want to remind everybody to go home and hug your family and tell them you love them," she said. "Because nobody know that was going to happen and we could have not come home today. I just want to say 'thank you,' that's all I can say to God is 'thank you.'"
Cornerstone Baptist Church hosted a prayer vigil only hours after the shooting and offered a place for the community to grieve and worship together. Al Curley, the youth minister at the church, offered guidance on how to handle tragedy.
"I want you to know that whatever it is you're feeling, however interesting it may feel, however wrong it may feel, whenever tragedy strikes, it is important, friends, for you and I to realize that though we might be feeling what we feel, there is a place we can go. There is a God that we can run to," said Curley
Curley reminded those gathered to remember and lean into Romans 12:15 (NIV): "Rejoice with those who rejoice; mourn with those who mourn."
"We know that sin is the cause of why many things happen. And we know the answer to that problem is Jesus," he said. "We know the feeling of pain and we know the joy of salvation. But along the road of life, things happen, situations occur, tragedy strikes ... Yes, the world is fleeting and the world is perishing, but, for those of us who have the assurance of hope in Jesus Christ, we have the promise of everlasting life."
Curley encouraged everyone to share that message and that redemption is real and life-changing.
The shooting occurred on October 6 at Timberview High School in Mansfield, Texas. The assault injured three students and one staff member. The suspected shooter, 18-year-old Timothy Simpkins, subsequently turned himself in the same day after several hours of a police manhunt.
OTHER MUST-READ STORIES:
Featured Image: Screenshot CBN