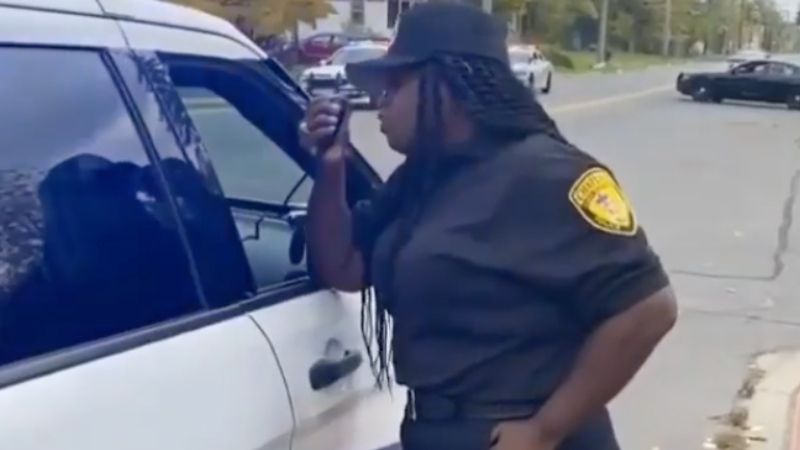 A Detroit police chaplain is making headlines after a viral video showed her delivering an impassioned prayer for her community from a squad car loudspeaker.
WANT MORE INSPIRING HEADLINES? SIGN-UP FOR THE PURE FLIX INSIDER WEEKLY E-MAIL
Nora Jones, a captain with the International Police & Fire Chaplain's Association, said that she's surprised but thankful over the viral reaction to the heart-felt prayer she delivered earlier this month, as millions have now watched the video.
"In the name of Jesus Christ, Father, we need you to go into each and every house, Father," Jones passionately said as she invoked God, asking God to fill schoolhouses, homes and other social arenas. "Any type of bondage that's holding our kids, father — we ask that you give them the wisdom to break loose!"
Watch Jones' viral prayer:
The chaplain delivered this invocation during a community event against sex trafficking, WXYZ-TV reported.
"Before I started to pray, I just asked God to decrease me and increase Him because I didn't want people to see or hear me," she told the outlet.
Jones also told WDIV-TV that she believes prayer can create change. And her video has already helped people in some totally unexpected ways.
READ: CHECK OUT THESE INSPIRING DAILY PRAYERS FOR YOU AND YOUR FAMILY
"Being able to connect with the people — one lady says she didn't feel that God even existed in her life, but because of that video, she knows God is real," Jones said. "I'm in awe of the much community support ... and how all of the celebrities are contacting me and wanting me to speak, just in support of what God is doing."
A special thanks to Jones for inspiring so many with her prayerful message! Want more inspirational stories delivered to your inbox? Sign-up for the Pure Flix Insider weekly email and we'll send you the top stories in faith and entertainment.