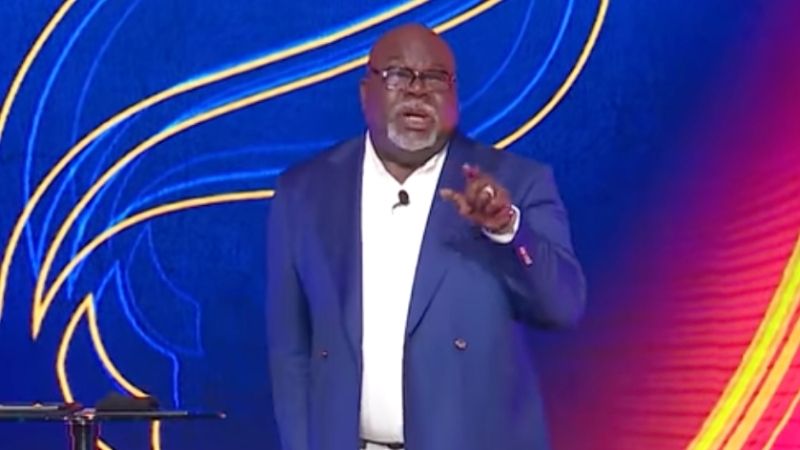 Author and pastor T.D. Jakes just delivered a pointed message about hate, tribalism and cultural chaos, explained the importance of breaking down the walls that divide so many Americans — and offered a warning.
SIGN UP: GET THE LATEST IN CHRISTIAN NEWS, MOVIES, PRAYER, FAITH, AND MORE IN YOUR EMAIL BOX
"Tribalism always leads to war. Always. You have to break down the wall and not build walls between us, but draw circles around us and begin to talk," he said on a recent episode of "Edifi With Billy Hallowell." "I'm talking about actually becoming friends with people. It's hard to hate somebody you understand."
Jakes, who has a new book out titled, "Don't Drop the Mic: The Power of Words Can Change the World," emphasized the importance of fulfilling Jesus' Matthew 28:19 call for Christians to go around the world and to spread truth.
WATCH: GET A FREE PURE FLIX TRIAL AND WATCH THOUSANDS OF FAITH AND FAMILY-FRIENDLY MOVIES TODAY
Known as "The Great Commission," Jesus proclaimed the following in that verse: "Therefore go and make disciples of all nations, baptizing them in the name of the Father and of the Son and of the Holy Spirit."
Listen to Jakes break this all down:
The key, he said, is listening to one another.
"But before we teach them, let's listen, because I think there's a huge disconnect between the sanctuary and the solar orbit that it encircles," Jakes said. "And that difference makes a difference in how we approach the Great Commission."
The preacher said that hearing others out offers an important ability for people to make a deep and profound impact.
"If you speak fluently and lose your hearing, your speech will deteriorate down to the level of your hearing," Jakes said.
I think that the church has become deaf, and in so doing, we're so busy teaching and talking. And we have our lines down pat and our talking points down, [yet] we're not listening."
Jakes implored people to step up to collectively make change, to push past the division and to pray for people in need.
Want more inspiration? Sign up to get Pure Flix Insider emails delivered to your inbox free each week — get the best in faith-based entertainment news!
Featured Image: TD Jakes Ministries/Facebook
OTHER MUST-READ STORIES: