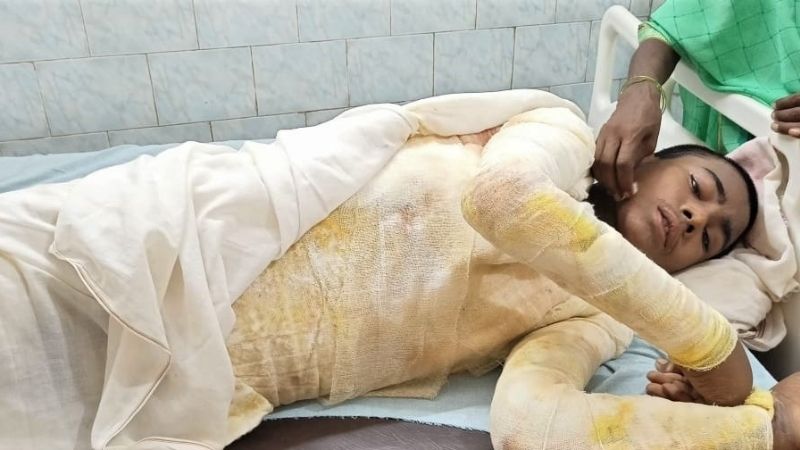 Nitish Kumar, the 16-year-old from India who was badly burned by extremists and was in "very critical" condition for weeks, has died.
READ ALSO: DID ARCHAEOLOGISTS JUST DISCOVER EVIDENCE OF SODOM AND GOMORRAH'S BIBLICAL DESTRUCTION?
Kumar, who suffered an acid attack on August 11, died on September 26 at the Apollo Hospital in India. The teenager languished for 46 days due to severe burns over the majority of his body, as Pure Flix Insider previously reported.
International Christian Concern has more on this truly tragic story:
Nitish was on his way to the village market in Kamtanagar, located in the Gaya District, when unknown people on a motorbike poured acid on him from behind. He was immediately rushed to a local medical clinic for first aid, but later was shifted to Apollo Hospital in Patna, Bihar's state capital.

Upon initial assessment, doctors claimed that approximately 60 percent of Nitish's skin was burned in the acid attack. His family claimed the motivation for the attack was Nitish's Christian faith and his participation in local ministry.
Kumar was reportedly in the midst of his morning routine of buying vegetables for his family when the incident unfolded, telling the Morning Star News about the pain he faced in the immediate wake of the attack.
READ ALSO: LOUIE GIGLIO DISMANTLES THE 'BIG LIE' SATAN SELLS HUMANS IN THE MIDST OF SPIRITUAL BATTLE
"Soon my skin began to burn," he said. "The burning sensation increased with every passing second. I dropped the basket and ran towards my house screaming and howling."
Pure Flix Insider had previously asked for prayer for Kumar, who was in critical condition throughout August and September due to his extensive injuries. While supporters held out hope, the teen's body couldn't sustain the damage.
Tragically, Dr. K.N. Tiwari, a doctor who cared for Kumar, was quoted last month by Morning Star News as stating that the teen had "low" survival chances due to the burns.
As previously reported, Sanjeet Kumar, the victim's 17-year-old brother, said that the incident was potentially rooted in the family's decision to convert to Christianity — something local extremists had purportedly not taken too kindly to.
READ ALSO: 'THEY WERE KILLING': AFGHAN WOMAN WHO ESCAPED WITH HER KIDS AT THE LAST MINUTE CLAIMS TALIBAN ARE 'WORSE' THAN EVER
"A month before the attack, some extremists spread word in the village that they would expel all the people who follow the Christian faith from the village," Sanjeet said in an interview with Morning Star News. "We also heard about it, but it did not deter us from our faith. And suddenly this attack took place."
Kumar had reportedly been threatened by radical Hindus in the area, who had pledged to kill him.
If the family's allegations are true, Kumar's story is yet another reminder of the intense persecution Christians face all over the globe. International Christian Concern specifically noted that there is reportedly an increase in anti-Christian sentiment in the region.
As of October 1, no one had been arrested for the crime and there was no definitive motive.
Please pray for Kumar's family members, friends and loved ones during this difficult time.
Featured Image: Morning Star News