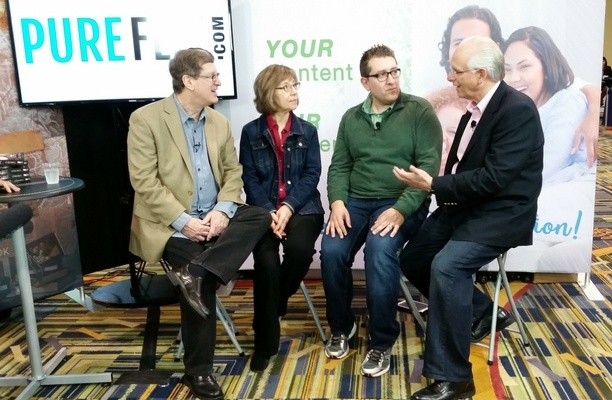 There's a new Christian talk show in town, and it's bravely taking on issues at the heart of our culture. Hosted by Billy Hallowell from FaithWire and PureFlix.com CEO Greg Gudorf, "Pure Talk" launched last week with four pilot episodes at the National Religious Broadcasters Convention in Orlando, Fla.
"Pure Talk" is an online news/talk show program that's designed to examine religious, cultural and entertainment topics through a faith perspective. The video program features a panel of experts, each with their own point of view, but all with same objective in mind: Discussing topics that are inspirational and make a positive impact on our society.
"The idea behind these pilot episodes was fairly simple: Get a group of people together from different backgrounds and have a respectful conversation about important issues surrounding Christian culture, " said Gudorf.
"We all feel that the Christian audience is being underserved in this regard and we wanted to provide a potential solution."
The shows feature some of the leading voices in Christian culture, including Leslie and Lee Strobel, whose story is being made into a Pure Flix movie ("The Case for Christ", launching in theaters April 7) and Fox News National Religious Correspondent Lauren Green.
Besides Gudorf and Hallowell, a senior editor at FaithWire and the author of the just-released "Fault Line," the talk show panel also included Lauren Green McAfee, the corporate ambassador of Hobby Lobby.
Topics discussed include religious freedom and liberty, homeschooling, cultural bias and more.
Hallowell says he believes Christian audiences have needed a show that discuss issues of culture: "Pure Talk offers up a totally different option for viewers, a talk show that dives deep into entertainment and culture, but does so through a Christian lens. I believe many have been craving this, but the marketplace has given few, if any, options -- until now."
You can watch all the episodes of "Pure Talk" on Facebook. Here's just one of the episodes...
We can't wait to hear what you think of "Pure Talk," and your feedback matters to us! Your comments will impact future episodes, so be sure to share what topics are meaningful to you, your families, and your communities.