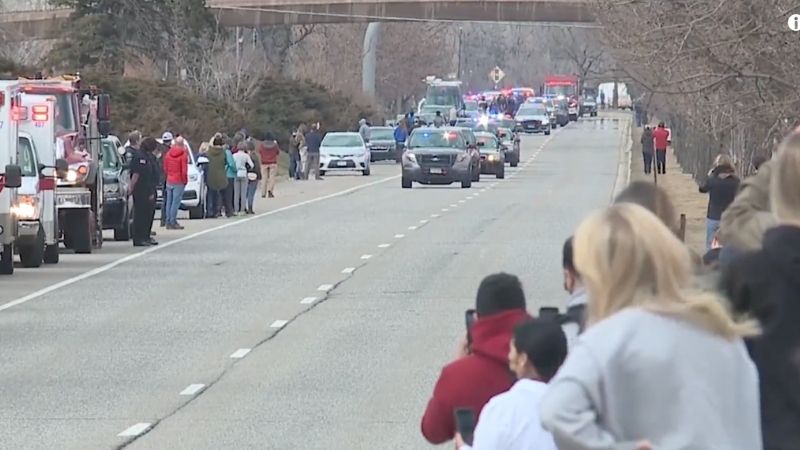 Scores of locals lined the streets in Boulder, Colorado, on Wednesday to honor the life of fallen police officer Eric Talley.
FIND HOPE: SIGN UP TO GET FAITH AND ENTERTAINMENT NEWS RIGHT IN YOUR INBOX
The Daily Camera reported on the incredibly moving scene: "When a hearse carrying Boulder police Officer Eric Talley's body swept past a crowd lining Foothills Parkway on Wednesday, many wiped tears from their eyes or formed hearts with their hands."
The emotional scene unfolded on Wednesday as Talley's body was transported from the coroner's office in Boulder to a funeral home in Aurora, Colorado.
As Pure Flix Insider previously reported, Talley, 51, was among the first to arrive on the scene at King Soopers in Boulder on Monday after a gunman entered the grocery store. Talley was tragically slain along with nine others.
Local resident Maggie McClure told The Daily Camera that she showed up alongside hundreds of others to honor Talley and to let his family and other cops know that there are people in the community who care.
"I want his family and fellow officers to know how much they're supported, because I know they don't always feel that way," she said.
READ ALSO: 'A DEVOUT CHRISTIAN': HERO COP KILLED IN MASS SHOOTING WHO 'HEADED STRAIGHT TOWARD THE DANGER' LIVED LIFE OF SELFLESSNESS
Others echoed this sentiment. Another local man named John Sullivan expressed his sympathy and compassion for Talley's grieving wife and seven children.
"I'm wondering how his family will make it without him for the rest of their lives and I'm wishing them the strength to cope," Sullivan told CNN. "Because when you lose somebody suddenly, there may be some things you didn't get to say that you want to say, and some things you didn't get to do that you wanted to do."
Read more about Talley's selfless life and journey here. And for more news stories delivered right to your inbox, be sure to subscribe to The Pure Flix Insider weekly email.