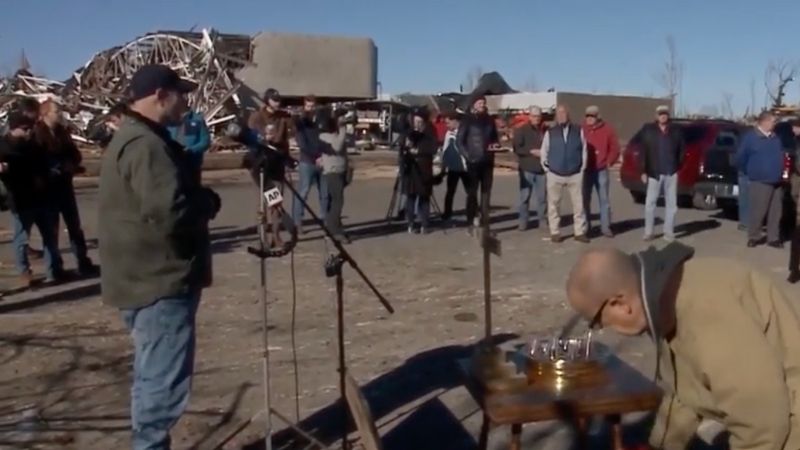 Many of the stories coming out of Kentucky and other states following the devastating tornadoes that killed more than 60 and destroyed hundreds of structures are not for the faint of heart. But in the midst of the terrible heartbreak and destruction is the awe-inspiring resilience and faith of people who are choosing to hope, help and draw nearer to God.
While we ask you to join us in prayers for the thousands of Americans impacted, here is so hope in the midst of the heartbreak.
Nursing Staff Sings Hymns While Shielding Residents with Their Own Bodies, Saving Lives
One of the many structures that was destroyed in Arkansas was a nursing home. The roof was torn off causing the building to collapse around the terrified residents and staff members. Miraculously, out of 67 residents, only one was killed as the staff selflessly shielded their elderly patients from falling debris with mattresses and their own bodies.
In the midst of the storm, one of the nurses, Barbara Richards, encouraged everyone to pray and sing hymns — desperate for supernatural calm — and they did. They sang "all different ones, whatever ones they could think of —anything to get them thinking about something else," Richards said.
WANT MORE CHRISTIAN NEWS? SIGN UP FOR THE PURE FLIX INSIDER EMAIL NEWSLETTER TODAY
Wife Prays With Trapped Husband Over the Phone as She Calms Their 5 Children at Home
Things were bad enough for Courtney Saxton when the tornado ripped through her Kentucky neighborhood. She and her five children huddled in a bathtub as she tried to calm the screaming, crying kids. But then Saxton's husband called. He was working at the local candle factory and the building had collapsed — he was trapped in the rubble.
In the middle of the chaos, Saxton turned to the One she could count on for peace and shelter in the worst of storms — God.
"It was awful. I was trying to calm them down, but the whole time I'm praying. I knew that God would see us through," Saxton said. "[My husband] was calling us hollering and screaming and crying because he was stuck so I prayed with him over the phone, too. Just kept talking to him, kept telling him that God will work it out, be strong, don't give up, keep fighting."
Congregations Gather in a Church Parking Lot to Pray in the Midst of the Destruction
Less than 48 hours after the deadly tornadoes hit, members of First Christian Church and First Presbyterian Church in Mayfield, Kentucky, gathered to pray. Their church buildings looked like a disaster scene — piles of broken bricks and twisted metal everywhere — so they huddled in one of the parking lots, praying and singing.
"We know the church is people, not the building," said Dr. Milton West, senior minister of First Christian Church. "It's awful. It's tragic. People who have lost loved ones, there is no way to take that pain away. I think you just have to embrace the pain and pray that God will guide you as you overcome it."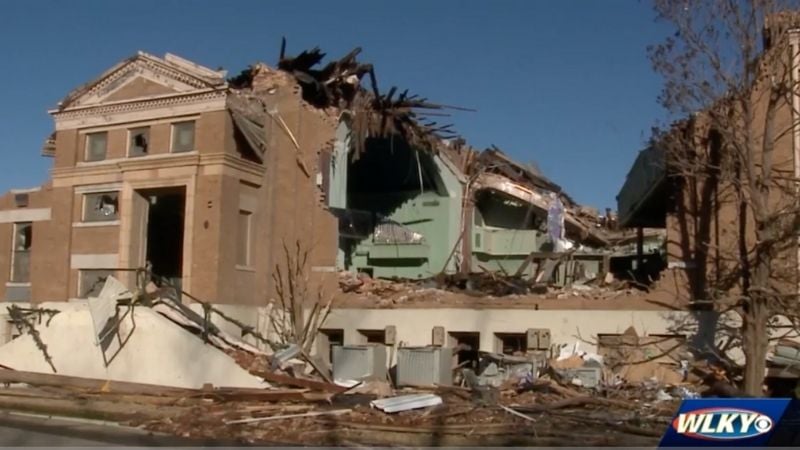 It's hard to imagine everything these people are experiencing right now — the rollercoaster of emotions — sadness, anger, relief, exhaustion, hope. But in the midst of it all, God's light continues to shine brightly.
Kentuckian Tommy Anderson probably explained it best when he shared what he and his wife have experienced following the destruction of their family home.
"We woke up this morning in a motel room and the wife had to have a good cry and I consoled her, but then she started reading Facebook and the offers," Anderson said. "And that's when I started crying, seeing the love of Jesus just pour out of people."
Please continue to pray for all of those affected by the tornadoes, and that the love of Jesus would continue to draw people closer to Him as they recover and rebuild.
Photo Credit: WLKY
Other Must-Read Stories: