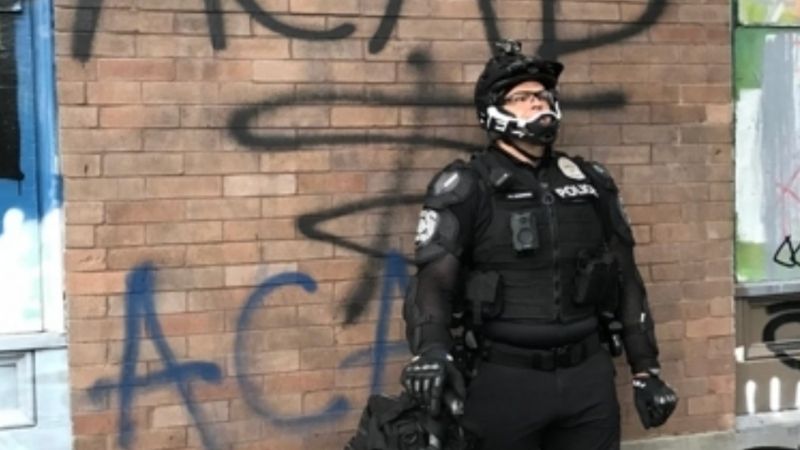 Noah Winningham is truly unique. He's a Seattle Police Officer and he's also the lead pastor of Sufficient Grace Church in East Puyallup, Washington, dividing his time between oft-times dangerous police work — and spreading the gospel.
READ ALSO: PRAYERS FOR FIRST RESPONDERS: PROTECTION FOR COPS, FIREFIGHTERS & EMTS
Winningham told The Christian Post that his dual role offers him "unique context and [a] voice that no other pastor can give," as he's able to bring his real-world cop experience to the pulpit.
Some might wonder how he found his way into ministry. Winningham said he and his wife knew he was called to preach, but they also knew God didn't want him to halt his law enforcement career. So, he does both.
"My wife and I knew God didn't want to take me out of the police department, because especially in this area, there aren't many Christian police officers," he told The Christian Post. "Among police officers, there's a huge suicide rate, there's a huge alcohol abuse rate and massive depression. We knew God wanted me here."
Still, some might wonder how Winningham balances these deeply divergent professions. He admitted that it's certainly an interesting dynamic, but added that he believes the dual roles make him a better cop and preacher.
READ ALSO: THE BEST POLICE MOVIES: 'VINDICATION,' 'BADGE OF FAITH' & MORE
"I do believe that being a cop makes me a better pastor and being a pastor makes me a better cop," he said. "God has guarded my ability to mentally shift and step in between worlds. It's felt very Gumby-like at times, getting bounced back and forth. But God has really protected me."
Winningham believes God can call us to two different things simultaneously — and his experience shows that this is the case.
STREAM: WATCH 'VINDICATION' RIGHT NOW ON PURE FLIX TO SEE A CHRISTIAN COP IN ACTION
"Just because it's hard doesn't mean God isn't calling you to it," he said. "God calls us to hard things because He wants us to rely on Him. He will give you the fuel to navigate your ministry situation."
Read more about Winningham's story over at The Christian Post.
Featured Image: Noah Winningham/Christian Post