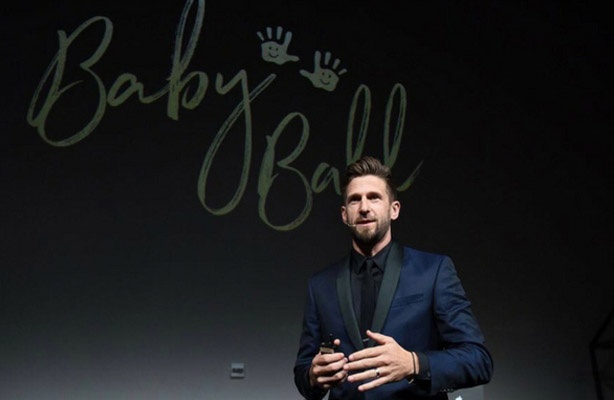 Hank Fortener has devoted his life's work to helping children and families. His organization, AdoptTogether — a PureFlix.com cause marketing partner — leverages technology to help families crowdfund the monies needed to navigate the oft-times expensive adoption process. It's an innovative effort that connects children to consistent and loving forever homes.
AdoptTogether invites the public to come together to help raise money (i.e. crowdfund) to pay families' adoption fees, which often include agency costs, legal fees and other related expenses.
In an era in which some critics have begun to question the impact that technology is having on civility, Fortener, during a Sunday appearance on PureFlix.com's "Pure Talk," heralded the power of technology to help children in need — and offered up some powerful words to ponder.
"I think technology's an amplifier and I think the more you try to hide from or resist technology you're just going to do a disservice to yourself," the founder and CEO of AdoptTogether said. "Technology's an amplifier for whatever it is you want to create."
Fortener said that intent is key, explaining that those looking for trouble will use technology to find it, while others will rely on new advances to help improve the world around them.
Read Also: 12 Heartwarming Family Movies About Adoption
"People who are looking to … help our world become a better place … ought to use every technological lever possible to do so," he said. "We can do so much more good with technology amplifying our voice."
Watch Fortener discuss technology and adoption below:
Fortener said that technology has, in fact, helped aid many adoptions, knocking down the barriers that once forced families and agencies to rely on snail mail and other slow and unreliable means of communication.
Read Also: This Movie About Adoption Teaches Us the True Meaning of Family
He personally experienced these more time-consuming communication efforts while growing up in Dayton, Ohio, when his family decided to foster 36 children before officially adopting eight children from six different countries.
"My mom had three of us biologically and about my 7th birthday or so she said, 'We're going to be foster parents,'" Fortener recalled. "She said, 'God put me on Earth to be a mother.'"
His family learned a lot along the way, with Fortener specifically detailing his belief that "permanence" is what children need. Flash-forward and he's now helping other families give children that very thing through AdoptTogether.
Fortener said that adoption "never un-touches your life" and that anyone who has met a child without a parent or guardian will quickly realize the painful situation these kids are in.
Read Also: Tear-Jerker: Shocked Couple Receives Life-Changing Gift
"If you ever travel overseas or if you ever have the chance to meet a child as an adoptive parent or a foster parent who does not have a permanent guardian, you will be shaken at imagining my 3-year-old child given to a system, put on a piece of paper, where a 9 to 5 worker is deciding her destiny," he said.
He's hoping to see more families adopt. For more information about Adopt Together, one of PureFlix.com's charitable partners, go here.
Looking to be inspired? You can access thousands of inspirational and faith and family friendly TV shows and movies for free during your one-month PureFlix.com trial.