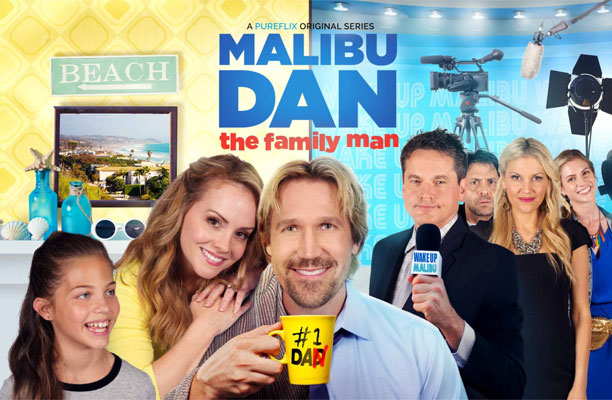 These days, it may feel nearly impossible to find wholesome, family-friendly comedy that everyone in your home will enjoy. Whether it's a live stand-up comedy show, music, movies, or a TV series, content is often saturated with inappropriate language or topics. PureFlix.com is proud to announce its new original comedy series, "Malibu Dan--The Family Man." Not only does it provide clean content, it will have your whole family laughing! Meet some of the the cast of this new PureFlix.com exclusive series:
David A.R. White as Dan Marshall
With having been an actor for more than 20 years, David A.R. White will likely be a familiar face. At the age of 19, White moved to L.A. from a small farm town in Kansas. Since then, he has been in more than 45 movies and television shows, including "Hitting the Breaks" and "God's Not Dead 2." In "Malibu Dan," White plays Dan Marshall – a fun-loving family man who is also the host of a show called "Wake Up Malibu." In the first episode, Dan is worried he will be replaced by someone more "hip." Watch as he hilariously tries to change his image.
Kelly Stables as Kate Marshall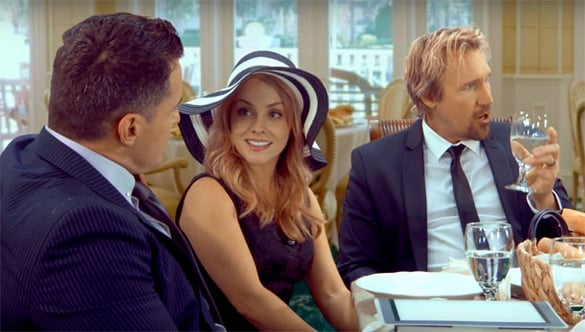 Kelly Stables plays Kate Marshall, Dan's wife. You might recognize Stables from other popular TV series such as "Two and a Half Men" or "The Exes." With more than 50 movie and TV appearances under her belt, Stables has made her mark in the comedy world and she brings her lighthearted humor to the set of "Malibu Dan."
Kevin Downes as Reggie Larcher
Kevin Downes grew up in Visalia, Calif. where his interest in filmmaking and acting was born. Since then, he has made his mark as both an actor and a producer. You might have seen Downes working alongside White in films such as "The Crossing" and "End of the Harvest." They also acted alongside each other in the popular PureFlix.com series "Hitting the Breaks." Their friendship off-screen makes for hilarious chemistry between the two on the set of "Malibu Dan."
Andrea Logan White as Holidae Sinclair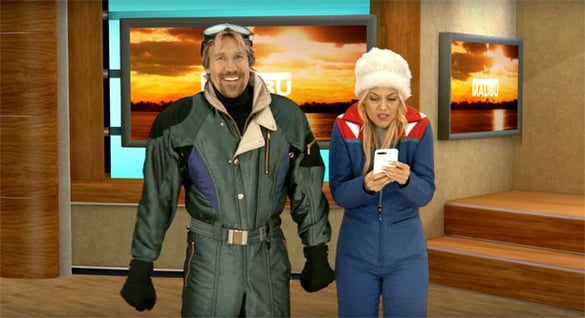 Another "Hitting the Breaks" alumni, Andrea Logan White (David's wife in real life) plays Holidae Sinclair, Marshall's co-worker and friend. The duo makes a hilarious team on "Wake Up Malibu." In real life, White grew up in a small town in Illinois. After she graduated high school, she moved to San Diego where her passion for acting was sparked in college theatre classes. Since then, White has been featured in many movies and animated series, including the voice of Pepper Poppyseed in the popular children's cartoon "Veggie Tales," and "Mom's Night Out."
Brad Heller as Arlen Haggart
Along with being an actor, writer and director, Brad Heller is also in an acting teacher and founder of The Heller Approach acting studio in Los Angeles. Before making the move to L.A., Heller graduated from the Theatre Arts program at Boston University. He has always had a passion for comedy, and enjoys doing stand-up shows. Heller's professional experience, as well as his spunky energy, make for a hilarious addition to the "Malibu Dan" set.
PureFlix.com's new comedy original series "Malibu Dan" has a top-of-the-line roster that is sure to get your whole family laughing. Don't miss out on more familiar guest appearances by Erik Estrada, Victoria Jackson, Antonio Sabato Jr., and Robin Givens. Sign in to your PureFlix.com account to watch "Malibu Dan" and other PureFlix.com exclusives today. If you don't have an account, sign up for a trial to try it free today!