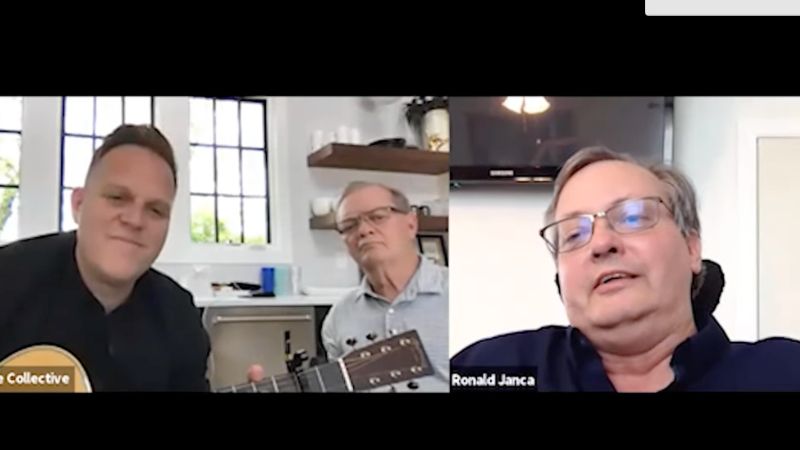 Christian music superstar Matthew West has been telling stories through his music for years. His latest, "Wonderful Life," was inspired by a man he met in 2020 who was in his final days battling amyotrophic lateral sclerosis, or ALS.
Ron reached out to West through his nonprofit, popwe, which is designed to "connect, inspire, and give hope through the redemptive power of Christ with story, prayer, and discipleship creating a ripple effect of redemption and glory to God." West certainly found that in Ron's story.
WANT MORE FAITH IN YOUR ENTERTAINMENT? SIGN UP FOR THE PURE FLIX INSIDER EMAIL NEWSLETTER TODAY!
"[He said] that every morning he asks his hospice nurses to play one of my songs called 'Strong Enough,'" West explained in a recent interview. The singer set up a Zoom call, hoping to spend some time encouraging Ron, but God had better plans.
"He spent the entire call encouraging me!" West exclaimed. "Little did Ron know that at that time I was battling some serious discouragement and was pretty depressed about the circumstances around me. But here was a guy able to see past his own battle with ALS to show kindness to me. I'll never forget that."
Ron died just a few weeks later. In the moments after learning of his death, West sat down and wrote "Wonderful Life."
In the newly released director's cut of the "Wonderful Life" music video, West shares video clips and pictures of Ron — a touching tribute to a man who embodied what it meant to find his hope and happiness in the Lord instead of his circumstances.
"These past couple of years have brought us tears, heartache, sickness and pain. But Ron taught me about the joy and the peace that you can find in this broken and beautiful, gone mad and magical, awfully wonderful life," West said.
ALS, commonly known as Lou Gehrig's disease, causes the nerve cells in the body to break down, which leads to the patient progressively losing control of their muscles. The disease is considered fatal as the patient will eventually lose his or her ability to breathe.
May is ALS Awareness Month. And while the disease is considered rare, around 5,000 people are diagnosed with ALS in the U.S. each year, and it is responsible for as many as five in every 100,000 deaths in people 20 years or older.
One of those people was Pure Flix co-founder Russell Wolfe, who was diagnosed with ALS in 2013 during the production of the Pure Flix blockbuster hit "God's Not Dead." Wolfe died less than two years later in 2015 at the age of 50.
Please join us in remembering those who have lost their lives to this horrible disease – and their families. Pray that God will bring them comfort and that those who are living with ALS will find their joy and peace in Christ – just like Ron did.
Listen to more of West's and Ron's conversation from 2020 in honor of ALS Awareness Month:
Photo Credit: YouTube
H/T: CBN's Faithwire
Other Must-Read Stories: