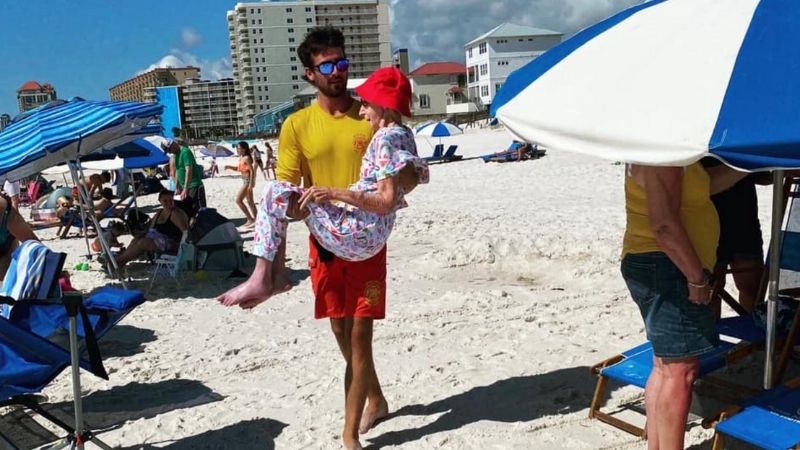 When a lifeguard from Orange Beach saw a woman struggling to push her 95-year-old mother's wheelchair across the sand, he did what any person with access to a beach patrol vehicle would hopefully do—he offered her a ride.
But what makes this story different is that the guard didn't stop there. In fact, the entire team at Orange Beach Surf Rescue soon banded together to make Dottie Schneider's long-awaited vacation to the Gulf Coast all the more memorable.
"These guys earned their wings for the way they treated my mom," said daughter Kimberly Waterbury. "All of them genuinely cared."
"Our guards have been instructed to try to help people out if they're having a tough time," said Brett Lesinger, beach safety division chief for Orange Beach.
And help they did.
WANT MORE INSPIRATION? SIGN UP FOR THE PURE FLIX INSIDER EMAIL NEWSLETTER
Upon learning that the elderly woman couldn't walk, but really wanted to enjoy the beach with her family, the lifeguard didn't hesitate.
He drove Ms. Dottie to a spot on the beach with rented chairs and an umbrella near the water. Then he got out, gently picked her up in his arms and carried her to her chair.
The next day, he did it all over again.
For five straight days, one of the lifeguards on duty would pick Dottie up at the hotel and then carry her to the chairs. After a relaxing day at the beach, a guard would pick her up and take her back.
Dottie regularly accompanies her family for their biannual beach vacations, but this time was more enjoyable for everyone thanks to the lifeguards' kindness.
"In the past, when they'd gone to the beach, she couldn't get to the beachfront. They had to sit by the pool deck. Being able to put her feet in the sand and seeing the waves crash on the shore, I think that made all the difference," Lesinger said.
Dottie was so blessed by the doting young men that she didn't even want to go home!
"This was the first time she ever said she didn't want to leave," Kimberly revealed. "She wanted to stay."
"[The lifeguards] were faithful," she continued. "They were there. It made my mom's whole trip."
At the end of the week, the family showed their appreciation by filling the lifeguard's fridge with food—and talking up their incredible experience, which has now gone viral.
"I will come back to that state because your tax dollars are going for a wonderful cause," Kimberly said. "We've been all over, and this is the first time we've gotten this much help."
"We are forever indebted to the guys with Orange Beach Surf Rescue," she continued. "They made my mother feel special. She was not made to feel like she was a burden on anybody."
Here's hoping Orange Beach sees a surge in tourism following these lifeguards' admirable acts of kindness.
Photo Credit: Facebook
Other Must-Read Stories: