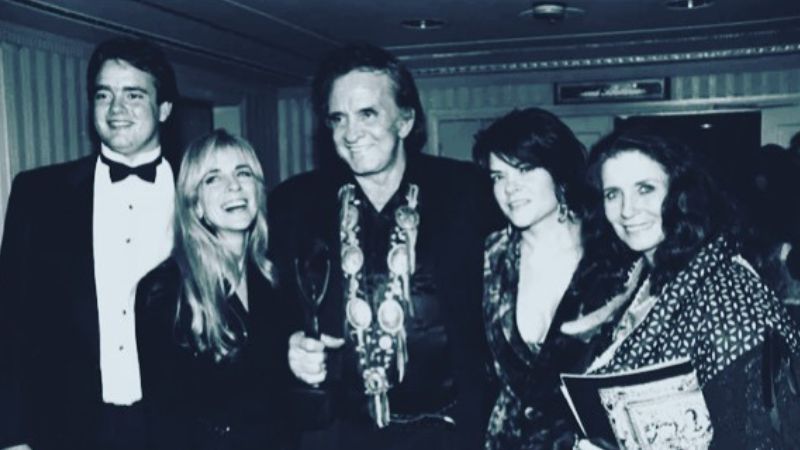 Johnny Cash was known for his deep voice and distinct sound that delivered hits such as "Folsom Prison Blues," "Ring of Fire," and "I Walk the Line." But it turns out that "The Man in Black" and those closest to him didn't define Cash by his award-winning music career, but by his faith.
"My father's faith was defining of who he was," the artist's son, John Carter Cash, revealed in a recent interview.
WANT MORE FAITH AND ENTERTAINMENT NEWS? SIGN UP FOR THE PURE FLIX INSIDER EMAIL NEWSLETTER!
The younger Cash, who is also a country artist and the only child of Cash and singer June Carter, just released a devotional he helped write based on his father's faith journey. The book, "Walking the Line: 90 Devotions of Truth and Hope Based on the Faith of Johnny Cash," includes some of Cash's never-before-seen faith quotes, and testifies to the unconditional love of God and the powerful forces of forgiveness and redemption, which he experienced throughout his life.
"My dad fell short in many ways through his life, but he always went back to that faith," Cash said. "He always carried that with him no matter what, wherever he went. Everything that he did in his life, that was a foundation."
Redemption and forgiveness were also regular themes in the elder Cash's music over the years. In the hit title song from his 1971 album "Man in Black," Cash told the story of why he only wore black on stage with moving lyrics about the poor, imprisoned, sick and those who don't know the Lord.
… I wear the black for those who've never read
Or listened to the words that Jesus said
About the road to happiness through love and charity
Why, you'd think He's talking straight to you and me
And while Johnny Cash notoriously struggled with infidelity, alcoholism and drug addiction, once referring to himself as "the biggest sinner of them all," he never gave his human struggles power over his faith. Instead, his faith is what helped see him through it all.
"His faith was like unto Job," Cash explained about his dad. "He did not curse God. He realized that he was human, and his faith helped carry him."
If you're a Johnny Cash fan, be sure to check out this powerful new devotional. And for more inspiring stories of Christians living for God, don't forget to get your free Pure Flix Fearless Faith Movie Guide!
Photo credit: Instagram
H/T: Faithwire
Other Must-Read Stories: