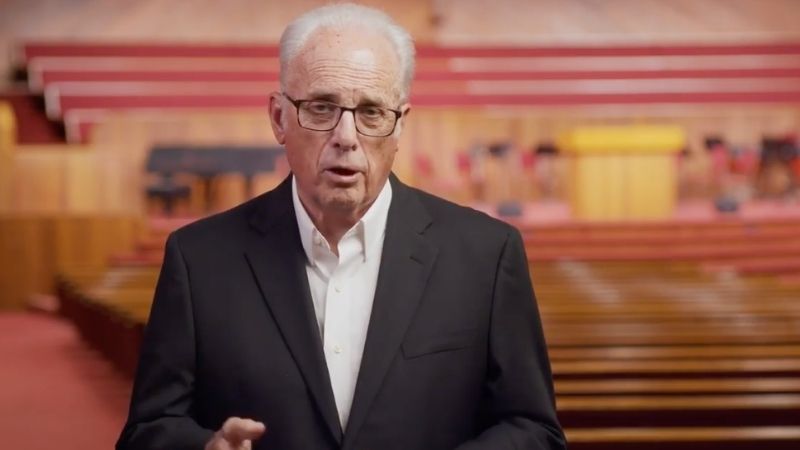 Pastor John MacArthur of Grace Community Church in Sun Valley, California, is continuing to defy California COVID-19 regulations — and he has a response to purported threats of jail time: "Bring it on."
MacArthur, who has refused to back down from pandemic mandates that churches remain shuttered, told Fox News' Laura Ingraham during an interview this week that he received a letter threatening up to six months behind bars if Grace Community Church continues indoor worship.
READ ALSO: PASTOR JOHN MACARTHUR REVEALS WHY HIS CHURCH IS DEFYING COVID RULES
Undeterred, the pastor invoked the Apostle Paul in discussing his refusal to back down.
"My biblical hero apart from the Lord Jesus Christ is the Apostle Paul, and when he went into a town he didn't ask what the hotel was like," MacArthur told Ingraham. "He asked what the jail was like because he knew that's where he was going to spend his time."
John MacArthur not worried about threats of jail for holding church services: "I'm open for a jail ministry ... bring it on" https://t.co/DYr6pzGkue pic.twitter.com/vnZm9qyoSW

— Disrn (@DisrnNews) September 16, 2020
And preacher wasn't done there, going on to proclaim that he has a plan if he, indeed, ends up facing jail time.

"If they want to tuck me into jail, I'm open for a jail ministry," MacArthur said. "I've done a lot of other ministries and haven't had the opportunity to do that one. So bring it on."
MacArthur has been making headlines in recent weeks amid his refusal to stop holding indoor services. Last month, the preacher spoke about his decision during an episode of the "Edifi With Billy Hallowell" podcast, explaining that Grace Community Church initially complied with California's restrictions before changing course.
WATCH: STREAM THOUSANDS OF CHRISTIAN MOVIES AND TV SHOWS ON PURE FLIX
"I've been here 50 years; the church is 63 years old, and this church has never had any kind of mandate from the government to close," MacArthur said at the time. "So, when they came up with this mandate it seemed to be so rare and so unusual that we were listening."
But as time went on, the pastor said he came to believe that COVID-19 isn't as deadly as some had initially claimed, and that the need for church community is essential. So, he and Grace Community have continued to meet despite legal orders to stop.
This decision has been controversial and has led to a plethora of debates both within and outside of the church. Read more about MacArthur's arguments here. We'll leave you with that earlier interview as well: