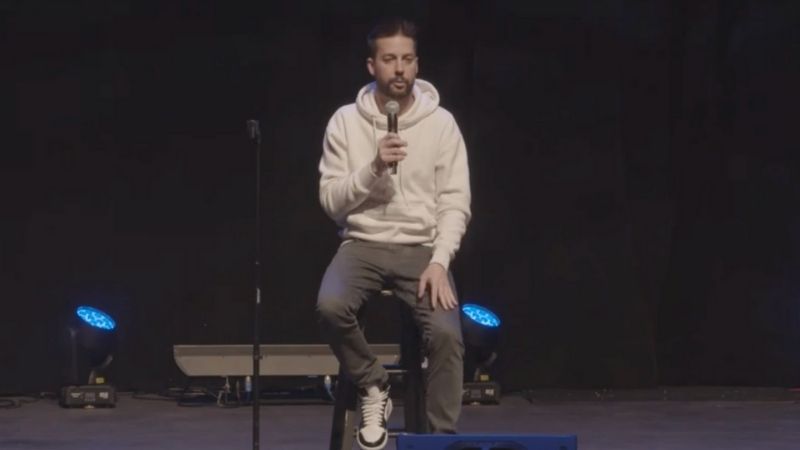 Christian comedian John Crist knows what it's like to feel embarrassed and ashamed over sin.
For years, he struggled with sexual sin and addiction in private. But his sins became public when five women came forward in 2019 accusing him of sexual impropriety and misconduct.
That's when Crist was forced to learn an important lesson — the power of God's forgiveness and the freedom from sin that comes from Jesus Christ.
But the lesson didn't come easy.
WANT MORE INSPIRATION? SIGN UP FOR THE PURE FLIX INSIDER EMAIL NEWSLETTER TODAY!
The comedian recently revealed the shame and embarrassment he felt when the allegations came out – and how those feelings quickly grew to the point that he began having suicidal thoughts.
"Everything I went through was horrific and embarrassing and awful and I wouldn't wish it on my worst enemy," he admitted during one of his stand-up shows. "I wanted to commit suicide. I was in rehab for four months."
It was there that Crist was reminded that Jesus came to earth for the whole purpose of saving sinners just like him.
"In that whole rehabilitation process, I found out there's a God that loves you, and He cares about you, and He's not mad at you," Crist said as the audience cheered.
That revelation was freeing for Crist, who shared that he had considered giving up his life as a comedian and retreating from the public eye because of the shame and embarrassment he felt.
In fact, it wasn't until he ran into a sweet family who showed him love and acceptance after leaving rehab that Crist fully understood what it meant to be redeemed.
"[They said], 'We just want to let you know that we love you and we care about you and we've been thinking about you,'" Crist recalled. "It was the first time in my life that people knew everything about me, and they still chose to love me."
The Bible says there is no condemnation for those who are in Christ (Romans 8:1) and that because of Christ, we do not have to be slaves to sin (Galatians 5:1). That was the lesson that Crist needed to learn — and for that, he will always be grateful.
"The only thing worse is if that had never happened to me," he said.
Photo Credit: Facebook
H/T: Faithwire
Other Must-Read Stories: