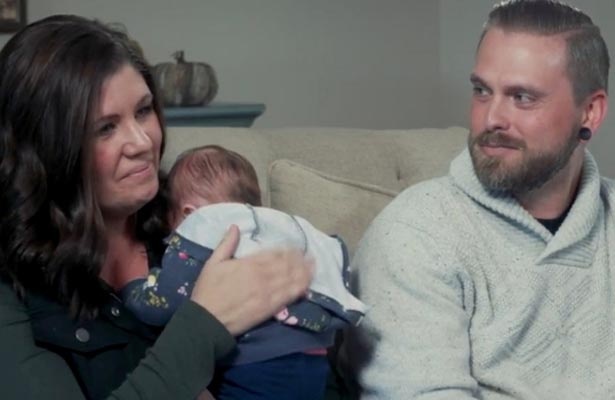 Adoption is a costly endeavor, but one that many people courageously embark on in an effort to complete their families. Anthony and Erin Laney of Tennessee, like so many others, felt called by God to adopt, but they initially had no idea how much it would cost. Adoption fees can sometimes exceed $30,000, depending on circumstances.
Despite the Laneys' own financial barriers, the couple forged on with their calling, overcame obstacles and brought home baby Stella.
And now PureFlix.com is part of the Laney family's journey. Thanks to YOU — the PureFlix.com family — the Laney family's remaining adoption expenses have been covered in full. Your support means they can focus on baby Stella and their newfound family, and that together we can continue helping other families through Adopt Together, a crowdfunding platform that helps families raise resources to complete the adoption process.
Read Also: You Won't Believe the Surprise this Adoptive Family Just Got!
Anthony and Erin recently shared their adoption story with PureFlix.com, with Erin revealing that she was initially in tears at the start of the adoption process after speaking with a Christian agency and learning how expensive it is to complete the process.
Still, she and Anthony were resolute, refusing to give up on the dream they knew God had placed on their hearts.
"We just decided this is our calling," Erin said. "This is what God is telling us we need to do and we're going to figure out how we're going to do it no matter what."
The process wasn't easy, as the couple, who also have a biological daughter, needed to make some pretty serious sacrifices in order to make it a reality.
Anthony and Erin took out a loan, but the biggest sacrifice of all came when they decided to sell their custom-built dream home — the forever home where they had planned to raise their family.
Read Also: 'I Didn't Want to Adopt': One Father's Amazing Change of Heart
"We decided to sell our house," Erin said, tearing up as she explained that the family did so because they didn't want to create future hardships.
Now, the Laneys are raising their children and starting their new life as a family of four. Despite the challenges, they are overjoyed to have followed God's will for their lives.
Adoption is a long, costly journey that few couples can do alone. The Laney family chose Adopt Together as the perfect place to start their journey. Donations are tax-deductible and can only be applied towards verified adoption expenses, making it a safe way to give charitably and be assured you're making a real difference.
You can look for other awesome families to support at AdoptTogether.org. Learn more about the other ways your PureFlix.com membership helps us give back here.
Know a family that is on an adoption journey? We want to hear their story! Leave us a comment and be sure to let them know how Adopt Together can help them along the way.