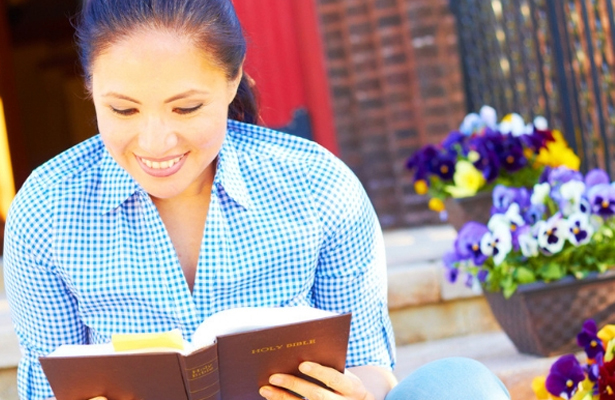 There's a new social media platform aiming to take the Christian world by storm: FaithSocial. It's an effort that allows Christians to "just be themselves" — a network that aspires to meet the needs of an underserved and highly-engaged community by providing sermons, Bible studies, live video and prayer, all while building a truly unique online community.
"FaithSocial is a social media platform developed for believers and nonbelievers who are looking for an amazing community to connect with, build relationships, learn from, smile, laugh, and be empowered by, all in the same place," Dio Pouerie, chief strategy officer of FaithSocial and senior pastor of Acceleration Church in Orlando, Florida, recently told Pure Flix Insider. "A community where they can come as they are to connect and grow."
TAKE A LOOK: Follow Pure Flix on FaithSocial.com
Pouerie said FaithSocial was launched after years of research into current social media platforms and outlets available to Christians. After diving into the data, the FaithSocial team realized that there is currently a widely untapped and underserved audience.
"Research confirmed that there were millions upon millions of individuals who were hungry to learn more about Jesus' revolutionary message of God's unconditional love and grace," Pouerie said. "And their desire to have a consistent source of motivation and inspiration they can lean on."
FaithSocial — a platform that, much like Facebook, offers personal profile pages, video integration and a plethora of other social media elements — also has some unique, faith-focused features.
WATCH: Here Are 10 Christian Movies That Will Renew Your Faith
There's a "pray" section where people can post requests as well as Bible studies and additional content aimed at rallying the faithful. PureFlix.com is among the companies, brands and ministries providing content to the platform.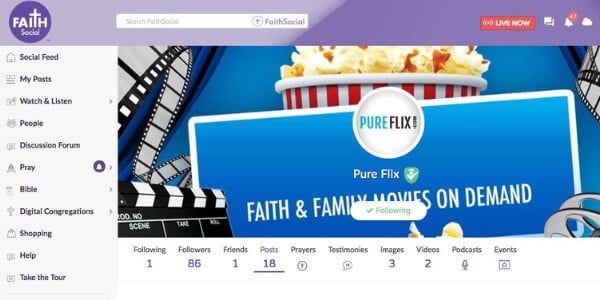 Pouerie said FaithSocial is on a mission to merge tech and faith into a rewarding experience for everyone who takes part.
"Embracing the latest technologies and multimedia, we will be one of the world's leading platforms delivering an unparalleled digital faith experience that unites the global body of believers and promotes spiritual growth," he said. "We transcend denominational and cultural differences by focusing on Jesus and embodying His teaching of love."
While some might wonder whether FaithSocial is aiming to take the place of Facebook, Twitter or other similar social platforms, Pouerie said this simply isn't an area of focus.
"Every social media community started with the audience they knew most about or were most passionate serving. Facebook did so with colleges, Instagram with photographers, Pinterest with women, and LinkedIn with business people," he said. "We just happen to love God, believe in Jesus, and want to develop the ultimate digital faith experience for others with similar interests."
READ ALSO: Bible Study: 7 Tips for How to Read the Bible
He's hoping to see FaithSocial break barriers over the next five years to become one of the top online destinations for Christians, with believers turning to the platform in an effort to build and bolster their faith. Additionally, he's hoping Christian leaders use FaithSocial to "expand their message of faith."
Already, FaithSocial is seeing some major traction. Despite still being in beta and not yet announcing a public launch, the platform's Facebook page has attracted 30,000 people and usage is continuing to climb among current members.
"Those who have registered are increasingly spending more and more time on the platform because of the vast amount of content we offer as well as the connections they are making," he said.
Be sure to check out FaithSocial and to follow PureFlix.com on this exciting, new platform.