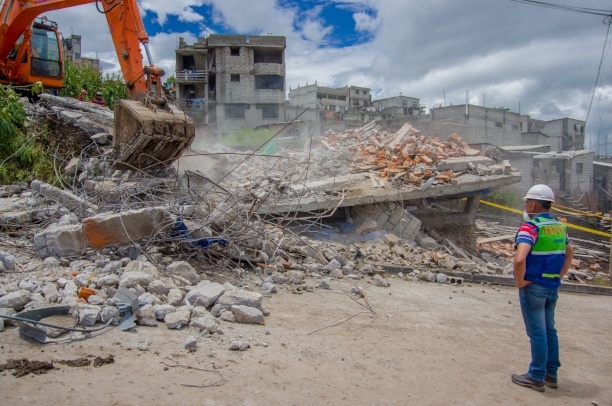 Last Saturday, Ecuador was hit by a 7.8 magnitude earthquake near the town of Pedernales off the Pacific Coast. The current death count is at 525, a number that is expected to rise as search and rescue teams sift through rubble.
According to Foreign Minister Guillaume Long's Twitter account, there are more than 650 international search experts currently aiding Ecuador. The number of victims not yet found is at 231, and there are 4,027 people injured, according to the Associated Press.
Looking ahead at restoration, the Ecuadorean President Rafael Correa believes rebuilding will costs billions and have a devastating effect on the economy. In the meantime, many are without homes, food, clean water, and places to stay.
Read Also: Have You Seen These Adorable Pictures of Kids on Adoption Day
"A lot of people have been made homeless, and a lot of people were sleeping on the streets, on mattresses or in hammocks, whatever they could sort of rig up." Journalist Julia Symmes told NPR. "People are afraid to be in buildings, and also they're afraid of another quake."
As Christians, we have hearts to serve our brothers and sisters in need, but being so far away leaves us feeling helpless. Here are some ways you can help right now without leaving the country.
Pray
We see the hashtag #PrayForEcuador on Twitter, but have we actually prayed? John 16:23 tells us, "My Father will give you whatever you ask in my name. Until now you have not asked for anything in my name. Ask and you will receive." Pray at church and at home that Ecuador will be restored and food and shelter will be delivered in abundance.
Read Also: 9 Reasons Traveling is Good for the Christian Soul
Give Material Goods
Thankfully, there are an assortment of organizations on the ground in Ecuador, and by donating to one of these organizations, you can effectively help families struck by the earthquake. To go even deeper, start a crowdfunding page. Involve friends, family, and your local community, and increase your impact.
Some Christian organizations currently accepting donations for Ecuador relief include:
MAP INTERNATIONAL is a Georgia based, health and relief organization. They are currently partnering with the Ecuadorian government to provide medicines and health kits.
WORLD VISION is focusing mainly on children and their families. They are accepting donations for emergency kits, temporary shelter, and to build child friendly spaces. Donate to World Vision here.
SAMARITAN'S PURSE is partnering with local churches in Ecuador to meet urgent medical needs and provide water and shelter to hurricane victims. Give to Samaritans Purse here.
Other Organizations doing incredible work in Ecuador include:
THE ECUADORIAN RED CROSS has hundreds of search and rescue volunteers working to find lost victims. They are also administering first aid and other medical needs. You can donate to the Ecuadorian Red Cross here.
UNICEF has already delivered 20,000 water purification tablets to Pedernales, and are asking for $1 million to meet the needs of the children affected. Donate to Unicef here.
OXFAM is dedicated to bringing water and hygiene to the earthquake victims. Their donation page tells you just where your money will go. Depending on how much you give, you'll provide the people of Ecuador with life-saving hygiene kits, clean water, or toilets and washing facilities. Give to Oxfam here.
SAVE THE CHILDREN plans "to set up safe spaces where children can play, learn and recover from the trauma of the earthquake" according to their donation page, They also plan to administer school kits when schools finally reopen. Support Save the Children here.
If you know of any other organizations, especially Christian organizations, offering on the ground support to earthquake victims in Ecuador, please include them in the comments.
About Pure Flix:
Pure Flix Digital is a subsidiary of Pure Flix Entertainment, LLC, the worldwide leader in faith based entertainment and a Christian movie studio based in Scottsdale, Ariz. that produces, distributes and acquires Christ based movies. Our vision is to positively influence the global culture for Christ through media. Whether it's on your television, laptop, phone, or tablet, Pure Flix Digital is your trusted destination for the highest quality family-friendly, wholesome entertainment that's now available anytime, anywhere. For more information, please visit PureFlix.com.
Photo credit: Fotos593 / Shutterstock.com