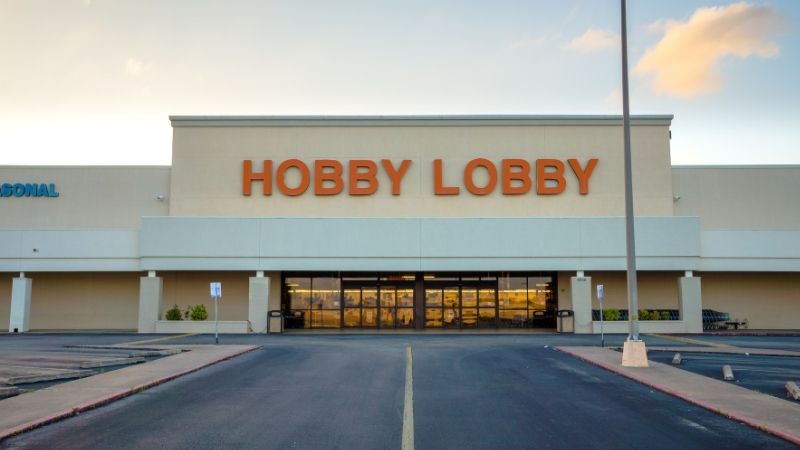 Economists say inflation is at its highest levels in nearly 40 years and families are feeling the pinch. But instead of complaining, Hobby Lobby is doing something about it.
This week, the craft store chain announced that it will raise the minimum wage for its employees to $18.50 starting January 1, 2022.
"We have a long track record of taking care of our employees," said Hobby Lobby founder and CEO, David Green. "In 1998, we made the decision to close our stores on Sundays, and at 8:00 p.m. the rest of the week, to provide employees time for rest, family and worship. We've also worked hard over the years to provide the best pay and benefits in retail."
WANT MORE INSPIRING NEWS? SIGN UP FOR THE PURE FLIX INSIDER EMAIL NEWSLETTER TODAY!
This will be the 12th time Hobby Lobby has raised the minimum wage for its employees in the last 13 years.
As an organization, Hobby Lobby has always been committed to "providing a return on the family's investment, sharing the Lord's blessings with our employees, and investing in our community," according to its website. And that commitment has clearly inspired the company's latest move to give back to its employees.
"We are thankful for our success as a company and thrilled to begin the new year by sharing that success with thousands of our employees," said Green.
Hobby Lobby last made headlines in July, when its faith-filled Fourth of July ad invited people to "know Jesus as Lord and Savior," drawing the ire of a prominent atheist group.
"If you would like to know Jesus as Lord and Savior, visit Need Him Ministry at www.chataboutjesus.com," the text read at the bottom of the Independence Da ad, which concluded by offering a free digital Bible to those interested.
On its website, Hobby Lobby includes a section about the founder's history of placing holiday ads in newspapers across the country, saying Green "felt commissioned by God to do something."
"David Green responded to that commission in 1996 by creating a simple newspaper ad that began: As you celebrate this Christmas season in the warmth of family and home, may you be drawn to the Savior; He who left the beauty of Heaven on our behalf and became like us, that we might become like Him," the website reads.
While a Christmas ad for 2021 has not yet been posted, Hobby Lobby is still touching heart with its Christmas commercial, which has been viewed more than 31 million times since it was posted at the end of October. Give it a watch!
Photo Credit: Shutterstock
Other Must-Read Stories: