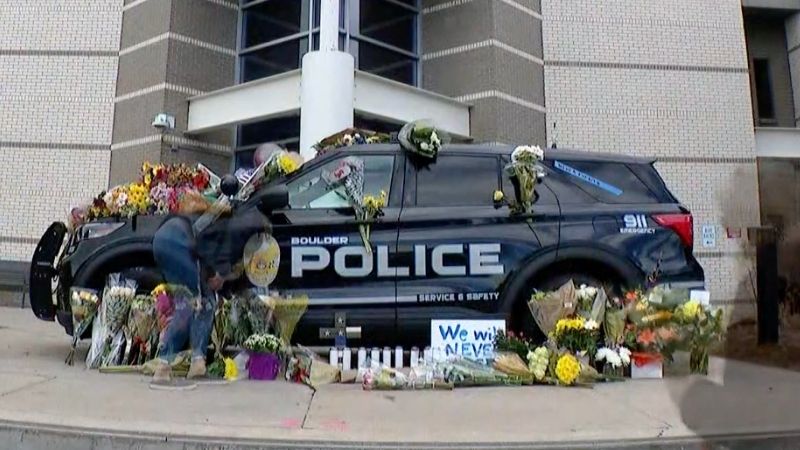 As the nation grapples with the aftermath of a tragic mass shooting in Colorado that claimed the lives of 10 people on Monday, fallen police officer Eric Talley's selfless actions and devout faith have come to light. And his kindness and noble actions teach us a powerful lesson about how to truly love others.
READ ALSO: 7 BIBLE VERSES TO HELP YOU FIGHT FEAR AMID CHAOS
When a gunman entered the King Soopers grocery store in Boulder, Colorado, Talley, 51, was among the first to arrive on the scene in an effort to stop the horrific event. Tragically, he lost his life, Reuters reported.
Since the event, a portrait of the officer's life has offered a touching lens into his faith, actions and character. A father of seven, Talley has been described by friends, family and colleagues as kind, caring and willing to give his life for others.
Boulder police chief Maris Herold praised Talley this week for his "heroic action," with CNN noting that the brave officer selflessly "headed straight toward the danger" when the call came in about the shooting.
Herold also revealed that Talley entered law enforcement later in life to due to a "higher calling," explaining that Talley selflessly performed his duties with honor.
"I can tell you that he's a very kind man, and he didn't have to go into policing, he had a profession before this, but he felt a higher calling," Herold said, according to NPR. He loved this community, and he's everything that policing deserves and needs."
READ ALSO: 11 BIBLE VERSES ABOUT SADNESS, GRIEF AND OVERCOMING THE ODDS
His friend, Jeremy Herko, mirrored these facts, telling The Washington Post that Talley joined the force in 2010, leaving behind a steady job in technology after a friend died in a DUI crash.
"He lost pay. He lost time away from his family," Herko said. "He joined the police academy without a guaranteed job."
WATCH: Police Chief Maris Herold praised the fallen officer who responded to a shooting at a Boulder, Colorado grocery store that killed at least 10 people. https://t.co/SPOfe1gRfE pic.twitter.com/lDRUawaW4w

— CBS News (@CBSNews) March 23, 2021
Reuters noted that Herko called Talley one of his closest friends and said the fallen cop is a "devout Christian" who was "the nicest guy in the world." Talley's father, Homer Talley, said his son "believed in Jesus Christ."
One of the common themes among those describing Talley was his respect and love for his community and the people in it. The Daily Beast reported, for instance, that the cop was praised for showing restraint during a call he responded to a few years back — a situation that involved a person in need of a gentle approach and care.
"Our son suffers from mental, physical and developmental issues," a resident noted. "He was combative when Officer Talley arrived. Officer Talley acted calmly and professionally and helped keep our son safe, despite our son's aggressive behaviors."
READ ALSO: 20 BIBLE VERSES ABOUT STRENGTH: GOD'S WORD ON FAITH IN HARD TIMES
Talley also captured the community's heart in 2013 when he and other officers made headlines for rescuing a family of ducklings after the birds became trapped in a drainage ditch. The Daily Camera has more:
Officers on scene said it became pretty clear the tiny ducklings were not going to be able to make it out themselves. [...]

So Boulder police Officer Eric Talley waded into the calf-deep water to try and round up the ducks himself as Walker and Officer A.J. Kunz hoped to scoop them up.

"He was drenched after this," Walker said of Talley. "They would go into these little pipes and he would have to try and fish them out."
Talley and the other officers kindly set the ducklings free. The lighthearted story, which sparked kind reactions at the time, now sheds even further light on Talley's character and person.
"His family is going to miss him. The community is going to miss him. The police are going to miss him, and Ball State is going to miss him too," Dr. Frank Groom, a Ball State University professor who taught Talley and who praised him as one of his top students, said in an interview with WXIN-TV.
A Go Fund Me has already raised more than $355,000 for Talley's family. Please pray for those grieving amid this tragic circumstance.
Need hope during times of uncertainty and tragedy? Turn to God with Pure Flix's free Bible Verse Devotional – a resource that offers strength, guidance and solace.