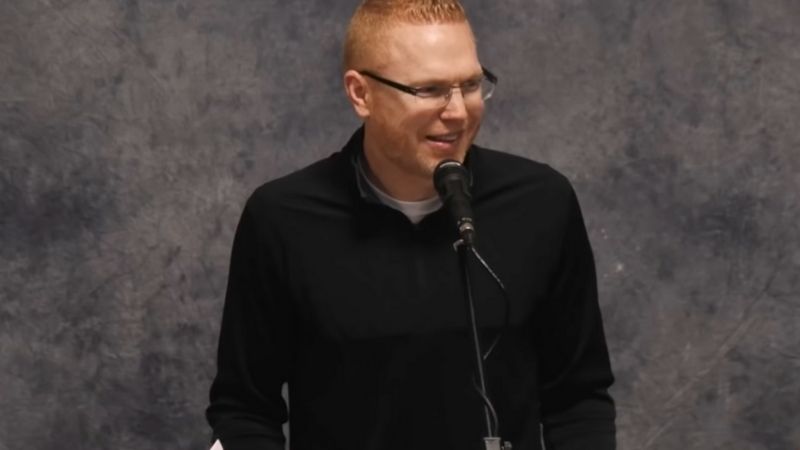 Pastor James Coates of GraceLife Church in Alberta, Canada, is at the center of the ongoing battle over religious liberty and COVID-19 restrictions, with Coates and his church continuing to push back against government restrictions after the preacher spent nearly five weeks in jail.
READ ALSO: PASTOR JOHN MACARTHUR REVEALS WHY HIS CHURCH IS DEFYING COVID RULES
GraceLife reportedly held services at an undisclosed location over the weekend — a notable move considering the fact that authorities have fenced-off the church building and closed it to the public.
The Alberta Health Services said the church building cannot be accessed and the barrier will remain in place until church leaders agree to comply with COVID-19 health restrictions.
"They can take our facility but we'll just find another one," Coates said at the start of Sunday's service.
Faithwire has more about GraceLife's covert Sunday service:
GraceLife published their service online, with congregants faces blurred out of the picture.

Pastor Coates greeted those in attendance at the "undisclosed location" by saying, "they can take our facility, but we'll just find another one."

A few moments later, two gentlemen (who were only identified in the video as Joe and John) came forward to lead the congregation in song. One of the men began by saying, "Did you ever think you'd be part of the underground church?"
SIGN UP: WATCH THOUSANDS OF FAITH-INSPIRING MOVIES AND TV SHOWS ON PURE FLIX
Coates preached around Psalm 2, telling the congregation that he wanted a sermon themed around the reality that "Jesus is Lord." This particular Psalm focuses on nations and leaders who come together "against the Lord and against His Anointed," and encourages such leaders to serve God with fear and reverence.
"In that context, those who are faithful, those who follow Christ and confess that Jesus is Lord are going to be the ones they have to silence and get out of the way because everyone else is going to fall in line," Coates said, according to Faithwire. "It's going to be the Lord's people who stand and herald Him as King and call governments to submit to Him as King and to govern in accord with the very Word that will judge them on judgement day."
Read more about the sermon and watch the service, which was uploaded to YouTube on Monday:
In addition to the church service, hundreds of protesters also assembled around the fenced-off church, singing hymns and chanting, CTV reported.
While some protestors ripped down the fence, others help put it back up, arguing that this wouldn't be how Jesus would respond to the chaotic circumstance. Police said they were on the scene to maintain order.
Problems for Coates and GraceLife intensified in December when the church was ordered to follow COVID-19 restrictions, including a 15 percent capacity cap. The preacher was ticketed $1,200, with inspectors alleging that the church was exceeding that capacity, had unmasked staff and wasn't observing social distancing, CBC reported.
READ ALSO: JESUS DIED FOR US: 10 POWERFUL BIBLE VERSES ABOUT SALVATION
Coates was charged with violating the Public Health Act, but he pleaded guilty to a lesser charge and, in turn, the two more pressing charges were dropped.
He spent nearly five weeks behind bars and was fined $1,500. His trial will begin on May 3.
Coates is not the first pastor to defy COVID-19 restrictions, as James MacArthur of Grace Community Church in Sun Valley, California, also eschewed regulations. After initially listening to California officials, MacArthur welcomed congregants back into the pews last summer and saw thousands flock to his church building.
READ ALSO: 8 MOVIES THAT SHOW WHAT IT MEANS TO STAND UP FOR YOUR FAITH
"Grace Church is going to meet … and we're going to continue to meet and we're going to always meet because Jesus Christ is the head of the church. Jesus is Lord," MacArthur said back in August. "And government has a certain purview given by God, but it doesn't cross over into the realm of the kingdom of God, so we're going to meet."
The balance over COVID-19 restrictions and religious liberty continues to be a point of discussion and debate inside and outside of the church, as people weigh legal rights with protecting society and maintaining devotion to faith practices.