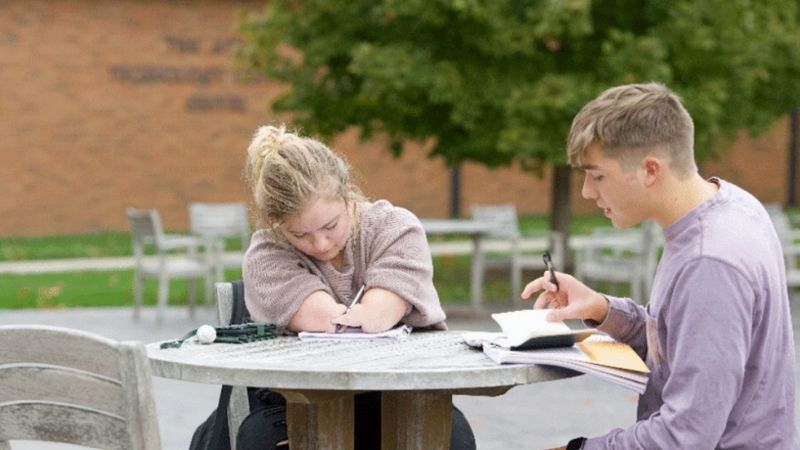 Marissa Conrad is a college sophomore who, through determination and faith, is an inspiration to everyone who meets her.
"Growing up, I was figuring out my relationship with God and getting to know Him more. But I always dealt with the 'why? Why was I made this way?,'" she said in a podcast interview with K-LOVE. "I couldn't see a purpose, but over the past few years, people have come to me and told me that I inspire them and point out how I changed their lives."
Ultimately, Marissa has realized that "this wasn't done unintentionally, God did this for a purpose. I was created to serve Him through having no hands ... God really knew what He was doing."
NEED MORE INSPIRATION? SIGN UP FOR THE PURE FLIX INSIDER EMAIL NEWSLETTER!
Marissa is a bilateral congenital amputee, meaning she is missing the lower portion of both arms but still has her upper arms. But that didn't stop the determined young woman from winning the Best Handwriting Award in preschool.
"I practiced so hard because I wanted to be better than everyone else," she said.
Listen to the whole interview below:
Marissa is now in college and has set her sights on her future. One where she hopes to go into counseling for children with disabilities.
"I do believe that He created me like this to reach out to people and help them realize that they're not created unintentionally," she said. "And to help them find joy in the little things when life doesn't feel that great. I've struggled to find the joy in having no hands for so long. So I've been able to use my found joy in God to help others find their joy in God too."
Photo Credit: K-LOVE
Other Must-Read Stories: